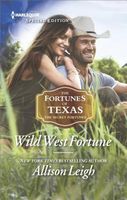 Series:
Fortunes of Texas: The Secret Fortunes
(Book 6)
A COWBOY NAMED FORTUNE
In a small Western town with more horses than people, feisty city reporter Ariana Lamonte may have uncovered the scoop of a lifetime: not one, not two, but three secret Fortunes, hiding in plain sight. Exposing these heretofore unknown Fortune heirs could make her career. But it could also break her heart.
Falling in love with cowboy/military man Jayden Fortune was never part of the plan. When Jayden offered Ariana shelter from a storm, he didn't know who she was -- and she didn't know what she was in for. Trapped in a dark, damp cellar with the sexy-as-sin rancher, Ariana unlassoed her inner cowgirl, and now she's got a problem: her "secret Fortune" has become way more than just a story…
Good book. Ariana is a reporter who has appeared in several earlier books. She is writing articles about the Fortunes, especially the newly discovered ones. She is also planning to write a book about Jerome Fortune/Gerald Robinson. A chance encounter with Gerald's wife Charlotte gives her a lead to more Fortunes. Not one to let grass grow under her feet, she heads for Paseo to see what she can find. What she finds first is a deserted road, no town, and an approaching storm - and one cowboy rescuer. Jayden Fortune, former army and current rancher, can't leave a damsel in distress, so he takes her back to his home. They take refuge in the storm cellar as a storm rages overhead - and in the cellar.
The developing relationship between Ariana and Jayden, as she waits for the repairs to her car, is fun to see. Ariana may be a city girl, but she's also adaptable, and quickly gets involved in the day to day life of the ranch. I loved the part at the Ybarra's ranch, as she sees a community come together to help one of their own, and how it affected her. The heat continues to grow between them as do their feelings. But Ariana hasn't been completely open with Jayden about her plans, and when the truth comes out he feels angry and betrayed. A confrontation with harsh words sends Ariana fleeing back to Austin, while Jayden faces the truth of his feelings for her. A conversation with his mother reveals a not-so-surprising truth and he knows what he has to do. I liked his big moment at the end. He does a bit of groveling, but it's his heart that's on the line and he's nervous about if she'll forgive him. His efforts were pretty sweet and I loved seeing their happy ending.
The truth about whether Jayden and his brothers are Jerome/Gerald's is answered by the end of the book. There is also a scene with the Robinson siblings as they are discussing the search for other siblings. A discovery by Olivia reveals a shocking secret about their mother and may be a lead in for the next series of Fortune books. I hope so, because I still want to know Jerome/Gerald's reasons.