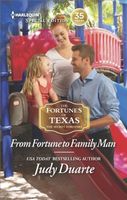 Series:
Fortunes of Texas: The Secret Fortunes
(Book 4)
WHAT TO EXPECT…WHEN YOU WEREN'T EXPECTING
Kieran Fortune, vice president of Robinson Tech, knows his strengths. He's good with technology; he's good at making money and at making love. But he doesn't know one thing about parenting. And he's just become a father. To a toddler.
When the ever-so-sexy millionaire agreed to sign on as legal guardian to his best friend's daughter, he considered it a mere formality. But now Zach is gone and Kieran is…Dad. In a fit of desperation, he reaches out to Zach's ex-girlfriend. Dana Trevino is a serious-minded graduate student who is great with little Rosie. She is also Kieran's polar opposite and the very last woman he should be interested in. It isn't fair. It isn't right. It's also just about inevitable…
Good book. Kieran is a tech guru and a ladies man. He is also a good friend. When his best friend asked him to be guardian to his daughter, Kieran never expected to have to follow through on it. But when Zach dies, Kieran steps up, determined to be whatever Rosie needed. He's also feeling a bit overwhelmed, so he asks Zach's former girlfriend for help. He doesn't expect to be drawn to her. Dana and Zach had been closer to friends than lovers, but she adored his daughter. She's more than happy to help Kieran whenever he needs it. She's not nearly as happy about her attraction to him.
I liked both Kieran and Dana. I liked how he changed his life around to give Rosie the life he feels she deserves. I loved that he was hands-on, rather than just hiring a nanny and turning Rosie over to her. He'd been raised by nannies himself, and though they'd been good, they weren't his parents. There are some terrific scenes of Kieran and Rosie together as he moves from Uncle Kieran to Uncle Daddy to just plain Daddy. Dana is sweet and loving. With no family of her own, she loved becoming part of Zach's, though she feels a little guilty. Their relationship hadn't been as deep as so many had assumed. She's grateful that Zach's parents still want her in their lives and Rosie's.
I loved the development of their relationship. They had met a few times previously, but didn't really know each other. Kieran first sees her as quiet, serious, and nothing like the other women he knows. He's puzzled by the sparks of attraction he feels for her, and tries to subdue them. After all, she was Zach's girl and even though he's gone it just isn't right. But he desperately needs her help. It isn't too long before he realizes that he also wants to be with her for his own sake. This freaks him out a bit because he's always been the committed bachelor. This causes him to do and say some things to Dana that are meant to put some distance between them but end up being hurtful. Dana is equally attracted to Kieran, but considers him to be way out of her league. She sees him as rich, successful and gorgeous and she's just a former foster kid. She doesn't see her own beauty and the sweetness that appeals to him. Spending time together with Rosie brings them closer and they start feeling like a family. Dana knows she's falling for him, but she can't stop her feelings from growing, even though she's sure nothing will come of it. Kieran's own feelings are changing and he doesn't know how to deal with them. Though I wanted to shake him over the whole wedding invitation thing, I liked that he quickly realized how stupid he had been. His big moment at the end was sweet and romantic, and showed an unexpected bit of vulnerability in him.
There wasn't much said in this book about the Fortune-Robinsons' ongoing search for any other half-siblings from their father's frequent affairs. There is some inclusion of the reporter Ariana Lamonte, who is doing a series of articles on the new Fortunes. There is also a hint that she may have a bigger story in mind.