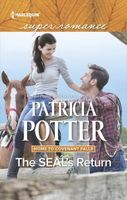 Series:
Home to Covenant Falls
(Book 4)
This is the home he never expected…
With a terrifying ordeal behind him, former navy SEAL Jubal Pierce was supposed to stay in Covenant Falls, Colorado, for only a day or two. That's it. He's not prepared to put down roots here -- no matter how intriguing the town's new doctor happens to be. Not to mention Dr. Lisa Redding's teen brother is on a troubled path that's all too familiar. Suddenly Jubal finds himself entangled in the community and with deep, unfamiliar feelings for Lisa. But maybe a little detour is just what a warrior needs to find his true purpose…and true love.
Good story of healing, not just for Jubal but also for Lisa, Gordon and Kerry. Jubal is a former SEAL who is dealing with the loss of his career and the memories it has left him with. He had been on a mission in Africa with his team when they were killed and he was captured. He spent two years in captivity, being beaten and tortured. When he finally got away he had too much physical and mental damage to be able to continue as a SEAL. At loose ends, he accepts the invitation of his friend Clint to visit him in Covenant Falls. He only plans to stay a few days before moving on. But early in his visit he catches a teenage boy trying to set fire to his dock. Seeing a lot of himself in Gordon, he wants to steer Gordon in a better direction.
Lisa is a doctor in Chicago, completing her residency. Her father had passed away several years earlier and her mother more recently, leaving Lisa as guardian of her younger brother and sister. Neither kid has dealt well with their loss, and Gordon has been getting into more and more trouble. When he's arrested for joyriding in a stolen car that also contains drugs, Lisa knows she has to take desperate measures. She accepts an offer as a replacement doctor in Covenant Falls and moves there with her siblings.
I loved Jubal. I ached for him and the pain he is in, for how lost he feels without the career he's had for twenty years. Thanks to his captivity, he has become quite a loner, avoiding crowds and people whenever he can. He's a little freaked out by the changes he sees in his friend Clint, who he remembers as a hell-raiser, and who is now married and the chief of police. He doesn't plan to stay long, but he quickly gets sucked into small town life. I loved seeing how easily he connected with Gordon and the straightforward way he treated him. He felt badly about not telling Lisa about Gordon's actions, but he also knew that Gordon needed to trust him.
I also really liked Lisa. She loves her siblings and gives up her plans for her own future to do what is best for them. I ached for her guilty feelings over Gordon's issues. I enjoyed seeing how quickly she settled into small town life, especially since she's only lived in the city before that.
I liked seeing the relationship develop between Lisa and Jubal. They are attracted to each other right away, but neither is looking for a relationship. Jubal isn't planning to stay for more than a few days, and with his issues from his captivity he doesn't feel that he's a good bet anyway. Lisa also only plans to stay a year or so and is more interested in giving her siblings a steady home life than in finding someone for herself. She also worries about Jubal being ex-military, as she equates that with the same sort of violence she saw in the city emergency room. She also is concerned about what kind of influence that would have on Gordon. However, they can't deny their fascination with each other. I loved seeing Lisa's attitude toward Jubal change as she got to know him and see the man behind the hardened exterior. She tried hard to keep herself from falling for someone who was going to leave, just as Jubal kept trying to convince himself that he wasn't going to stay. I loved seeing each of them setting down roots without realizing it until they were well and firmly planted. They also discovered that those roots were intertwined. I loved seeing them come together at the end and realize that they were both exactly where they were supposed to be.
I really liked how Jubal's healing was partly tangled up in his efforts to help Gordon. He recognized that Gordon was much like him at that age and was sure that he could help. It was fantastic to see how the two connected and that Jubal was able to get through to Gordon. I also loved seeing Jubal get involved in taking care of Luke's horses, and how that also began to soothe his pain. It was great to see Jubal start thinking about his future instead of just drifting from day to day.