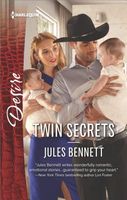 Series:
Rancher's Heirs
(Book 1)
This wealthy rancher is about to meet his match…and her two little secrets!
Colt Elliott is as handsome as he is cunning. And he wants his neighbor's ranch. So when the owner's beautiful daughter begs him to save her family's home, he gives her a job so she can pay off her debt…and he becomes consumed with a new goal: seduce the fiery virgin.
But Annabelle is the guardian of her infant twin nieces and all three ladies begin to pull at his heartstrings. Colt will go to any lengths to get what he wants -- but will his hidden agenda cost him Annabelle?
Emotional start to the new series, full of passion, betrayal and love of family. Annabelle has returned home with her heart battered and bruised. She recently lost both her sister in a car accident - after discovering that her fiancé had been cheating on her with her sister. Annabelle is now the guardian of her sister's twin daughters and is determined to give them the best home possible. Then she finds out that her father has gambled away his life savings and his home, the same home that she has dreams of turning into a B & B. She blames his rich neighbor for taking advantage of her father's weakness.
Colt has wanted the ranch next door for years. His father's dream was to turn it into the best dude ranch in Texas and Colt plans to make that dream come true. He has an ironclad plan to make his dream come true, but he doesn't count on his neighbor's daughter and her desire to save her family home.
I really liked Annabelle. She has had the rug pulled out from under her in so many ways, but she refuses to let it break her. She is passionate about her dream and about her family. Finding out that her father has borrowed money from their rich neighbor infuriates her and has her racing to his ranch to give him a piece of her mind. I loved her determination to save her home, and her willingness to work for the enemy to do it.
I had a harder time liking Colt. I really felt that he had been terribly underhanded in his methods of acquiring the ranch. Then to agree to Annabelle working for him to pay off the debt, knowing that he would still own the ranch at the end, was even sneakier, all because he wanted to sleep with her. His extreme confidence that he could have her in his bed for as long as he wanted her, then just walk away when the secret was out just made me mad. He did start to grow on me as his attitude changed.
The development of their relationship was fiery to say the least. There is no doubt that they are attracted to each other from the moment they meet. Colt is determined to get her into his bed and makes no secret of it. Annabelle is equally determined to resist him. There is some fantastic banter between them as Colt pushes and she resists. What Colt doesn't expect is to be impressed and moved by Annabelle's care for her father and her girls. There are some really sweet scenes where his growing feelings for her and the girls are evident. The more time he spends with her, the guiltier he feels about what he is doing, but he suppresses that guilt to continue with his plan. As Annabelle spends more time with Colt, she begins to see a different side to him than the ruthless businessman she first encountered. She's moved by his obvious love for his family, and her heart melts seeing him with her girls. She knows she's falling for him and hopes that he feels the same. But when bad timing reveals the truth of the fate of her home, his betrayal cuts deep. I ached for her and her pain, and loved seeing her tear into him for what he did. Only when it was too late did Colt realize what he had thrown away. It was really satisfying to see his brother point out what an idiot he was and give him some good advice. Colt's big moment was pretty sweet as he laid out his heart for her in hopes of her forgiveness.
I'm really looking forward to the rest of the series. Though all the brothers are different, there still seems to be a solid core of love among them. We only hear a little bit about Colt's twin, Beau, and the military brother, Hayes, but the oldest brother Nolan is fully present. I liked his attempts to talk sense into Colt, giving him the benefit of his own experience. I ached for his loneliness and regrets over the mistakes of his past, and am looking forward to his story.
I will say I was a little confused by the title and blurb. There was nothing secret about the two little girls. The only real secret was that which Colt was keeping from Annabelle.