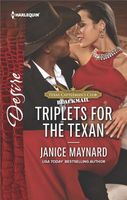 Series:
Texas Cattleman's Club: Blackmail
(Book 5)
Simone Parker will soon be a single mom, thanks to a sperm donor. But when the doctor tells her not one but three babies are on the way, Simone is floored. Especially since the good doctor is none other than the first love who broke her heart, Troy "Hutch" Hutchinson.
Touched by tragedy on an overseas humanitarian mission, Hutch has returned a changed man. What hasn't changed is the fiery chemistry he shares with Simone. But will Simone's secret reason for conceiving destroy their second chance?
Good book. Simone is pregnant by a sperm donor for reasons that seemed important to her. When she goes to her doctor's appointment, she discovers that he has left for another job. The new head of the department fills in at her appointment. Simone is shocked to see him, as it is her former love, who has returned to Royal after years away. She is even more shocked when Hutch tells her that she is having triplets.
Hutch has returned to Royal after serving several years as a doctor in Africa. He has returned a different man after loving and losing someone there. But is he ready to face Simone again?
From the moment they saw each other again, the attraction between them burned as hot as ever. However, neither one is happy about it. Both had suffered from broken hearts and blamed the other for it. Getting involved again is just asking for trouble. But Simone is having a difficult pregnancy and Hutch can't stop himself from stepping in and taking care of her. Spending time together just fuels their desire for each other and it isn't long before they give in. That isn't all that grows. It isn't long before each realizes that their love had never died, but neither one is ready to say anything and risk rejection.
Simone has also been getting threatening messages from someone named "Maverick", who has been threatening several people around town. He seems to know about her initial motivation for getting pregnant. When he confronts Hutch at a charity ball, Hutch's feelings of betrayal run deep and he says some harsh things to Simone. I liked seeing him struggle with himself over what happened and see where he went wrong. It still takes a scare for him to realize that he wants her in his life. I did like his big moment at the end. He was especially sweet about the babies, and I loved his willingness to grovel if she wanted it. I liked seeing her finally open up to Hutch about her reasons and loved her decision about her inheritance.
I liked both Simone and Hutch, though neither was perfect. Simone's reasons for getting pregnant seemed selfish at first. But her reasons became more understandable as we learn about her relationships with her father and grandfather. Understandably, she also had qualms about her decision, but once she was pregnant she was all in. I loved how she became so focused on the babies and being a good mother. I really enjoyed the scene with her assistant. I was a little bit disappointed that she never seemed to clear the air with Hutch about why she sent him off to Africa.
I liked Hutch, too. His devotion to serving those at risk overseas was admirable. I ached for the loss he suffered, and how it made him think less of himself. He also suffered from a bit too much pride, I think. He believed he had been rejected by Simone all those years ago, and allowed his pride to keep him from contacting her. If he had, they might have avoided the long separation. I really liked how he took care of Simone when she was so sick. I liked his attitude toward the babies.