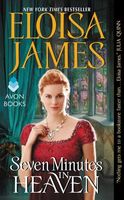 Series:
Desperate Duchesses
(Book 9)
Witty and elusive Eugenia Snowe has all society begging for one of her premiere governesses-except the powerful Edward Reeve, who bursts into her office with his arrogant demands.
No question that Eugenia enjoys crossing wits with the brilliant inventor, but Ward wants far more than a governess. He wants Eugenia, and he'll stop at nothing to have her-including kidnapping.
Will Eugenia lose her heart in the most reckless gamble of her life, or will she discover the sweetest pleasure she's ever known?
All it will take is seven minutes...
Very good book. Eugenia is the daughter of a marquis, a widow who lost her husband, the son of a viscount, in a boating accident seven years earlier. They had been very much in love, and in her grief, Eugenia needed something to give her life purpose. She started an agency which provides governesses to society members, though some look down on her for going into "trade". She has a reputation for providing the best, until she runs into Edward "Ward" Reeve.
Ward is the illegitimate son of an earl who has recently been given guardianship of two younger half-siblings. The children have had an unusual upbringing so far and he needs to prepare them for their new life in society. When a Snowe governess quits without notice, he confronts Eugenia with his demands.
There are sparks between Ward and Eugenia from the beginning. Their relationship starts via some rather amusing letters as she attempts to help him with his siblings. Their correspondence makes Eugenia feel alive in a way she hasn't for a long time. Ward is intrigued by the woman he believes is a former governess, by her wit and intelligence, and by her beauty. Besides wanting the very best in care for his siblings, he wants Eugenia.
I mostly liked Ward. He was smart, had a great sense of humor, and obviously loved his younger brother and sister. As soon as he found out about them, he upended his entire life to make a home for them. I loved his patience and understanding about their grief. There are some terrific scenes with him and the children that are really sweet and heartwarming. However, I was a bit frustrated with Ward throughout the book because of his attitude about Eugenia. For a man who spent his life being looked down on because of his illegitimacy, he turns around and does the same thing to her. Because he thinks she is not a "lady", he can only sleep with her, not consider marrying her. He is rather oblivious to all the indications that he is wrong. I kept waiting for him to discover his mistake and feel like the idiot he was.
I loved Eugenia. She is smart and warmhearted and has an amazing inner strength. In spite of some of the attitudes of the society women, she continues living her life the way that makes her happy. She has mourned her husband for seven years and is finally beginning to come out of her self-imposed seclusion. Her attraction to Ward Is a further wake-up call for her, as she realizes that she is finally ready to move on a little bit. I liked the way that she makes her decision to indulge in an affair with him, doing what feels right for her.
I enjoyed the development of their relationship. There was friendship, coming from their mutual desire to do what was best for the children. There was also the burning attraction between them, which occasionally overpowered their common sense. Ward's desperation for both help with the children and for Eugenia herself, led him to practically kidnap her and take her to Oxford with him. Once they were there, I loved seeing them work together with the children. There are some great scenes showing how the kids bring them closer together. At the same time, the heat between them is explosive, and their alone time is incredible. It doesn't take long for Eugenia to realize that what she feels for Ward is more than physical. She can't help dreaming of making a life with him and the children. Ward's feelings are also changing, but he resists with all his ability. After all, if he is going to give the children the entry into society they need, he is going to have to marry "up", and a former governess just won't do. Things come to a head after a misunderstanding, and Ward says some really hurtful things out of ignorance and pride. I ached for Eugenia and the devastation she felt. I was truly impressed with the way she handled it. Ward's realization of his idiocy is compounded when he discovers the truth about her background. His reception when he goes after her is everything he deserves, and I liked that things don't go the way he wanted. I loved that he actually had to work to gain her forgiveness, and his "grand gesture" at the end was excellent.

The children in this story are truly unique. From Lizzie's veil and dramatic recitations to Otis's pet rat, they are a real challenge to Ward and Eugenia. They are an interesting combination of innocence and experience, and they quickly work their ways into Ward's and Eugenia's hearts. Running through the story is the reason behind Ward's desperation to "tame" the children. Their grandmother is suing for custody and he has to do everything he can to make it clear that he is the best person to raise them. The grandmother is a really unpleasant person through most of the book. I loved seeing how both Ward's and Eugenia's families use their influence to help him, but it is Ward's own words that are the most effective. I loved seeing so many characters from previous books come together in this one to bring it to a happy conclusion.