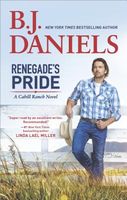 Series:
Cahill Ranch
(Book 1)
The renegade cowboy returns
It's been nine years since Trask Beaumont left Gilt Edge, Montana, with an unsolved crime in his wake, and Lillian Cahill has convinced herself she's finally over him. But when the rugged cowboy with the easy smile suddenly shows up at her bar, there's a pang in her heart arguing the attraction never faded. And that's dangerous, because Trask has returned on a mission to clear his name and win Lillie back.
Tired of running, Trask knows he must uncover the truth of the past before he can hope for a future with the woman he's never forgotten. But if Lillie's older brother, the sheriff, learns that Trask is back in town, he'll arrest him for murder. Now Trask is looking for a showdown, and he won't leave town again without one or without Lillie.
Very good second chance story and beginning of a new series about the Cahill family of Gilt Edge, Montana. The main focus of this book is Lillie, the youngest and only girl. Nine years earlier she and Trask had been in love and planning their future. But Trask was also known for having a short temper. After a public argument with his boss, when the man ends up dead, Trask is number one on the suspect list. Rather than stick around and get arrested for a crime he didn't commit, Trask took off, leaving a broken hearted Lillie behind. Now he's back, determined to clear his name and get Lillie back.
Lillie has convinced herself that she's moved on. She owns the local bar/café, The Stagecoach Saloon, with her twin brother. She hasn't done much dating, but blames that on being busy with the bar. She also seems to spend a lot of time bailing her father out of jail. She comes home one evening to find Trask waiting for her and realizes that maybe she's not as over him as she thought. She'll help him with his quest, but she doesn't want to risk her heart on him again.
Trask is clear in his determination to win Lillie back. He's grown up a lot since he left. It doesn't take Lillie long to surrender to the feelings that still burn between them. As they spend time together searching for the truth, those feelings continue to grow. I loved how they opened up to each other about how they'd felt while they were apart. I also loved how each wants to protect the other and the lengths they go to do so. It was hard for Lillie to keep Trask's presence a secret from her brothers, though they each sensed that there was something going on. I really liked Lillie's confidence in Trask's innocence and how much it meant to him that she believed him. I loved his big moment at the end. His surprise was sweet and romantic and perfect for who they are.
The suspense of the story is great. Trask is determined to find the truth and to stay out of the hands of the law until he does. Contact with an old friend creates some unexpected questions. Lillie's questions also seem to stir up a hornets nest and puts her in the crosshairs of those who don't want their secrets revealed. Each lead that she and Trask follow seems to lead to yet another person with motive for murder. The danger increases as they get closer to discovering the truth and those responsible get more desperate. Every time I thought I had figured out who it was, something would come up to make me doubt. The final confrontation was intense and not what I expected, with a whole raft of consequences.
Uncovering the murderer was not the only thing going on in this book. Second oldest brother, Flint, is the sheriff of Gilt Edge. Four years after his divorce he has begun to move on. He and his girlfriend Maggie are moving along in their relationship. But lately, whenever he has a special date planned, something comes up to sabotage it. Strangely enough, each time the problem is related to his ex-wife, Celeste. I wanted to shake him frequently because he is blind to what she is doing. I ached for Maggie, who can see it, and is ready to give up on his leaving his past behind. Flint is also dealing with the mystery of a missing woman. His investigation turns up some odd behavior and he has his suspicions but no proof.
Ely Cahill, patriarch of the family, has turned over the ranch to his children and spends as much time as he can in the mountains, panning for gold. He is also known for his assertion that, in 1967, he was taken by aliens and then returned near the missile silo that occupies a portion of their land. The book opens with him seeing something again. Flint's calls to the people in charge of the silos gets him no satisfaction and only suspicion that there is more going on there.