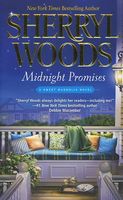 Series:
Sweet Magnolias
(Book 8)
When Elliott Cruz first courted struggling single mom Karen Ames, it was a romance worthy of any Sweet Magnolia fantasy. The sexy personal trainer made it his mission to restore Karen's strength -- physical and emotional -- and to charm her children.
Now, a few years into the marriage, colliding dreams threaten to tear them apart. Elliott's desire to finance the business opportunity of a lifetime with their hard-earned "baby money" stirs Karen's deep-rooted financial insecurities. It's the discovery that their brother-in-law is cheating on Elliott's sister -- and thinks it's justified -- that puts their irreconcilable differences into perspective. Will their own loving fidelity be a bond so strong they can triumph against all odds?
Good story about trust, communication, and belief in each other. Elliott and Karen have been married for a couple years. Their courtship had been difficult, as Elliott had had to overcome Karen's fears and wariness. Their marriage has been going well, as they settle into life as a blended family. Elliott adores Karen's two children and Karen herself. His goal in life is to make sure they never want for anything. When he is given the opportunity to be part of a new gym for men, he jumps at the chance - but doesn't tell Karen about it. To say that she isn't happy about it would be a vast understatement. Karen's first marriage ended when her husband walked out, leaving Karen with a mountain of debt she had known nothing about. Now her two biggest hot buttons are secrecy and money. When she finds out about Elliott's plans from someone other than Elliott, she is furious and terrified. Confronting Elliott doesn't really calm all her fears.
I liked both Karen and Elliott, but each of them had their issues that contributed to the stress between them. Karen's biggest issue is her fear of financial difficulty. Having barely survived the results of her first marriage, she is determined never to fear for the ability to pay the bills again. I understood her point, but her obsession with it got to be very annoying after a while. Especially since Elliott is nothing like her first husband. Elliott is a kind, loving and protective man. He is also a product of his upbringing in a traditional Hispanic family, where the man was the head of the household and made the decisions. Though he wants to believe that he is better than his father had been, there are some things that he just doesn't realize he does. Keeping the gym plans secret was one of those things. He didn't want to worry Karen about it until he had all the information ready to show her because he knew what her reaction would be.
I liked seeing how Karen and Elliott worked to resolve their differences. It wasn't easy, and both had some hard lessons to learn. Karen's constant fear was caused by what she went through with her first husband, and she had to fully accept that Elliott was not going to do the same. Though her heart knew it, her head would frequently create doubts in her mind. She was also oblivious to the fact that her doubts hurt Elliott's pride. Though Elliott is well aware of Karen's phobias about debt and keeping secrets, he still has a hard time being fully open about his plans. He is confident about the prospects for success, but has difficulty finding a way to share that confidence with Karen. He is also suffering from what he sees as a lack of faith in him. Elliott also wants to adopt her children and doesn't understand why she is dragging her feet.
The problem with the gym was the catalyst for Karen and Elliott to realize that since their marriage their lives had gotten extremely busy and they had lost their ability to communicate openly and honestly with each other. Thanks to the interference of several friends, they started making a concerted effort to remedy that, and things started to improve. When Elliott's sister began having problems with her marriage, Elliott and Karen realized that though they may have their own issues, their love for each other was never in doubt. Something Adelia says to Elliott about their father also makes him aware of the mistakes he had been making in his own life, and opens his eyes to the changes he needs to make. Thanks to some prodding from her children, Karen also realizes that she has been letting the past influence her future, and that she's the only one who can change that. By the end of the book, their marriage has made it through the rough patch and emerged stronger because of it.
The problems Adelia is having with her marriage show the differences in outlook between Karen and the women of the Cruz family. Adelia has been raised to be a peacemaker and to go along with whatever her husband says. But his constant affairs have become unbearable for her, and when it also begins to affect their oldest daughter, Adelia realizes that she has had enough. I loved seeing her start to regain her self-respect and to stand up to her husband. I got very irritated with the way that even the women blamed Adelia for the breakdown of her marriage. It was great to see Adelia and Karen grow closer, as Adelia discovers that Karen is a better source of support than her own family. Even Elliott needed an occasionally smack upside the head when it came to his family.
I loved catching up with other residents of Serenity who have appeared in earlier books. The deep friendships showcase the support that is always there for those who need it. I loved seeing Frances, Flo and Liz, the "senior Magnolias" and what they were up to. I ached for Frances and her fears, and loved seeing how everyone rallied around her.