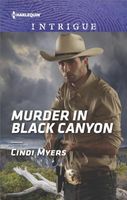 Series:
Ranger Brigade: Family Secrets
(Book 1)
With a woman's life in jeopardy and a body found in the Colorado wilderness, an agent's homecoming is anything but smooth…
When Kayla Larimer's investigation into a US senator's missing daughter leads her to a Colorado cult, a murdered FBI special agent and the Ranger Brigade's Dylan Holt, the fiercely independent private investigator is determined to ditch the sexy Black Canyon lieutenant and catch the criminals on her own. Dylan admires Kayla's stubborn dedication -- even as his protective instincts kick into overdrive. But then a kidnapping attempt on Kayla coincides with the disappearance of the senator who hired her, and these two opposites must fight a faceless enemy -- and their growing attraction -- to bring a killer to justice.
Good book, with an excellent mix of suspense, action and romance. Kayla is a PI who has been hired by a US senator to find his missing daughter. She tracks the girl down to a Colorado cult, just in time to witness the discovery of a dead body. Dismayed by the cult leader's attitude, Kayla reports the body to the Ranger Brigade office. Dylan is one of the officers who accompanies her back to the camp to investigate. Though attracted to her, Dylan has no intention of letting her become involved in the investigation - until she is nearly kidnapped and his protective instincts kick in.
I liked both Kayla and Dylan. They are very different, yet they strike sparks from the beginning. Kayla is stubbornly independent, having learned early in life not to depend on anyone else. Her father had been a conman, and because of it she learned how to spot other conmen, frauds and manipulators. It also made her reluctant to trust anyone, so she avoids relationships and works alone. She's also smart, intuitive, and level-headed.
Dylan has recently returned to Black Canyon after ten years of working in Denver. After years of city life, he was ready to come back and help on his family's ranch as well as work on the task force. He's honest, honorable, and a genuinely nice guy. He doesn't have any deep, dark secrets in his past.
I really enjoyed the development of their relationship. Dylan makes no secret of his attraction to her, but he doesn't push. Though he initially tries to keep her out of the investigation, when he foils an attempted kidnapping he decides he'd rather keep her close to protect her. Kayla tries hard to resist his protectiveness, to maintain her independence, but finds herself just as attracted to him. I loved the way that Dylan quickly came to understand what made Kayla tick and showed her that he respected her abilities at the same time he wanted to take care of her. I liked seeing Kayla fall under Dylan's spell, allowing herself to trust him, and then to love him. I loved the ending, as Kayla discovers just what it means to have someone who is there for her.
The suspense of the story was very good too. It starts out easy as a simple missing person case, but that changes rapidly with the discovery of the dead body. When the connection is discovered between the missing girl, Andi, and the now dead FBI agent, things get a bit more complicated. The investigation brings Dylan and Kayla into further contact with the cult leader, and their suspicions of him are aroused. When a kidnapping attempt is made on Kayla and she and Dylan are later run off the road they wonder if he is behind it. The disappearance of Kayla's client, the senator, adds another layer of mystery to the investigation. The tension continues to build until a surprise twist brings the murder investigation to an unexpected confrontation. While the murder is solved, there are still a lot of questions about the cult leader left to answer.