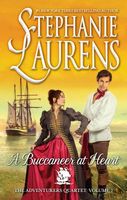 Series:
Adventurers Quartet
(Book 2)
After a decade of captaining diplomatic voyages for Frobisher Shipping, alongside covert missions for the Crown, Captain Robert Frobisher decides that establishing a home -- with hearth and wife -- should be his next challenge. But an unexpected mission intervenes. Although Robert sees himself as a conservative businessman-cum-diplomat and this mission is far from his usual sphere, it nevertheless falls within the scope of his abilities. As matters are urgent, he agrees to depart for West Africa forthwith.
To Robert, his way forward is clear: Get to Freetown, determine the location of a slavers' camp, return to London with the information, and then proceed to find himself a wife.
Already in Freetown, Miss Aileen Hopkins is set on finding her younger brother Will, a naval lieutenant who has mysteriously disappeared. Find Will and rescue him; determined and resolute, Aileen is not about to allow anyone to turn her from her path.
But all too quickly, that path grows dark and dangerous. And then Robert Frobisher appears and attempts to divert her in more ways than one.
Accustomed to managing diplomats and bureaucrats, Robert discovers that manipulating a twenty-seven-year-old spinster lies outside his area of expertise. Prodded by an insistent need to protect Aileen, he realizes that joining forces with her is the surest path to meeting all the challenges before him -- completing his mission, keeping her safe, and securing the woman he wants as his wife.
But the villains strike and disrupt their careful plans -- leaving Robert and Aileen no choice but to attempt a last throw of the dice to complete his mission and further her brother's rescue.
Compelled to protect those weaker than themselves and bring retribution to a heartless enemy, they plunge into the jungle with only their talents and inner strengths to aid them -- and with the courage of their hearts as their guide.
Exciting continuation of the series. This one picks up where
The Lady's Command
left off. Declan and Edwina have returned to England with the information they were sent to get. Robert has just arrived home from his latest voyage ferrying diplomats when he is met by the Duke of Wolverstone (Dalziel) who wants Robert to take the next leg of the investigation, finding the location of the slavers' camp, and bringing that information back to England. Robert is understandably disgruntled about not being able to see the investigation through to its conclusion, but accepts the reasoning. He also has a secondary motive for wanting to finish as quickly as possible: After years of sailing and missions for the Crown, he wants what Declan has found - a home and wife of his own. The sooner he returns home, the sooner he can start looking.
Aileen Hopkins grew up in a Navy family, with all the men in her family for generations having served. When word comes that her youngest brother, Will, has disappeared from his ship in Freetown, Aileen is determined to find and rescue him. She is smart, stubborn and a dead shot with a pistol. It doesn't take long for her to realize that there is more going on than meets the eye.
With both Robert and Aileen tackling the same mystery from different points, it isn't long before their paths collide. That first meeting is quite incendiary, as Robert steps in just as one of the slavers notices that Aileen appeared to be watching him. Using a kiss that rapidly gets out of hand, their cover is maintained, but both are left reeling. Robert is determined to convince Aileen that she should back off and let him handle things, and she is equally determined not to be shunted off to the side. It was quite enjoyable to see Aileen take each one of Robert's objections and counter it with excellent logic. Robert quickly came to realize that he would be certain of her safety only if he kept her at his side.
The development of their relationship is fast and furious. They are evenly matched in intelligence and determination, and discover that they work together quite well. There is also a simmering attraction that builds quickly. I really enjoyed seeing Robert's frustration with Aileen at the beginning, as she didn't behave in any way like he expected her to. However, that same behavior soon impressed him with her ability to adapt to any circumstances. It didn't take long for him to realize that fate had combined his mission and his search for a wife, if only he can keep her safe. I also enjoyed seeing the effect that Robert had on Aileen, shaking up her usual ability to focus on her goals. There were several fun parts where Aileen notices the similarities between Robert and her brothers, and handles him the same way she would them. There are also times when Robert needs all the diplomacy he's learned over the years to make Aileen see things his way. But through it all, there is no doubting the respect they have for each other. There are no games played, no big secrets to drive them apart, and no doubting that they are meant for each other.
The carrying out of Robert's mission was exciting from the beginning. The first part of the book shows both Aileen and Robert following their plans independently. Robert and his men have their work cut out as they follow their suspects and wait for their chance to track the slavers. Aileen's frustration with the lack of help she receives from the officials leads her to take matters into her own hands. She's unaware of the bigger picture and the danger until she joins forces with Robert. Her switch in focus to the missing children brings her to the attention of the wrong people, and her capture creates havoc with Robert's plans. There is a great deal of danger, fear, excitement and even some humor in her rescue, but that's not the end of it. Still missing some key information, their search leads into the jungle and yet another close call with the slavers. A heartbreaking scene involving some of the missing children gives further impetus to their need to escape with the information they now have. That confrontation was a real nail-biter as I wondered how close it was going to be.
I loved the final chapters, as Robert and Aileen take the time during the voyage home to truly get to know each other. Their arrival involved a bit of fun, as we meet the youngest brother, Caleb, and experience the ever present competitiveness between the brothers. It concludes with a most satisfying meeting with Wolverstone and other familiar faces, including Edwina and Minerva, Lady Wolverstone. There's an unexpected twist involving the next leg of the investigation that sets the stage for the next book.