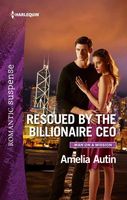 Series:
Man on a Mission
(Book 10)
When she's bound, gagged and kidnapped, Alana Richardson is terrified…until a masked avenging angel saves her. There's something unforgettable about the mysterious man. But when she uncovers her hero's identity -- drop-dead-gorgeous alpha male Jason Moore -- Alana is irresistibly drawn into his dangerous world…
A CEO by day and a vigilante by night, Jason lives and breathes danger. Yet, for the first time, he may have found a woman who understands his commitment to justice at all costs. His hunger for right to prevail could put Alana in harm's way -- but one night and one secret will change everything.
Fantastic book. I don't know how the author does it, but every book surpasses the one before it. I read it in one sitting, staying up well past my bedtime because I couldn't stand to put it down. This one starts with a bang, as Alana has been kidnapped off the streets of Hong Kong by human traffickers. She is bound, gagged and blindfolded, waiting to find out what is going to happen to her, when a masked stranger appears and rescues her. Something in his voice and in his touch tells her she can trust him.
I loved both Alana and Jason. Alana is the daughter of a wealthy man, but is desperate to get away from her parents. She can't stand their blatant prejudices and with the help of her cousin Juliana she gets a job working for Dirk DeWinter. She is smart, kind-hearted, loyal to those she cares for, and determined and stubborn when she needs to be.
Jason is gorgeous, rich and honorable. He's also a bit jaded when it comes to women, as he never knows whether they want him for himself or his money. He has some bone deep insecurities stemming from experiences he had as a child and teen, ones that have him aching to be loved for himself. He also has a secret life as the leader of a covert organization that brings justice to those who believe they are outside the law. He played a big part in the rescue of Dirk's daughters in
A Father's Desperate Rescue
.
The connection between Alana and Jason is immediate and deep. After the rescue they couldn't stop thinking of each other. Alana didn't know who he was, and I loved the scene where she was trying to pump Mei-Li for information. That connection was evident when they met again and Alana recognized him for who he was. I loved that meeting and how Alana showed Jason the depth of her belief in him and what he does.
I loved the development of their relationship. Over the next couple weeks they spend as much time together as they can. I enjoyed their encounters and loved seeing them slowly get to know each other. There are some really emotional scenes where they share bits and pieces of their pasts, things that have made them the people they are. But Jason's insecurities have led him to keep the full truth of who he is from Alana, which occasionally makes things a little awkward for him. It was fun to see her worry about him spending money on her and him squirming because she doesn't need to. The intensity of their feelings for each other continues to grow, but just when it looks like their happiness will be complete, a major obstacle rears its head. This is something that Jason feels very strongly about, driven by his own experiences. Alana is on the other side of the issue, feeling just as strongly, and for a very good reason. I cried for them both as it drove a wedge between them. Some time apart reminds them of the depth of their feelings, but the way forward is still in doubt. It is here that Alana's stubborn determination really comes in handy as she refuses to accept Jason's reasoning. The ending is awesome, with Alana standing up to her father, and Jason finally seeing the truth behind his fears. Their big moment at the end was sweet, romantic and so deeply emotional I cried again.
Throughout the book is the ongoing battle with the Eight Tigers, the group behind the kidnappings and other crimes. Jason's group, RMM, has been working to shut them down. There are occasional glimpses into their actions from the criminals' point of view, and an increasing intensity as the action heats up. Alana is put in danger again when the Tigers go after a way to hurt Jason. The intensity of this confrontation was incredible, from the capture to the pursuit to the rescue itself. I especially loved seeing Alana's active participation. There's an unexpected twist at the end leading to a painful confrontation for Jason, but an overall satisfactory conclusion for RMM.
There are appearances of characters from previous books. Alana's cousin Juliana (
King's Ransom
) is a big part of Alana's life. It is through her that Alana gets her job as Dirk's assistant. The cousins' close relationship is shown in many ways. We also see a bit of Angelina Mateja-Jones (
Alec's Royal Assignment
) when Alana spends time in Zakar. Most present in the book are Dirk and Mei-Li DeWinter from
A Father's Desperate Rescue
. Alana works for Dirk and Mei-Li is Jason's sister. Both of them provide some important insight into Jason, as well as a kick in the pants when he needs it.