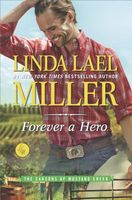 Series:
Carsons of Mustang Creek
(Book 3)
For the youngest Carson brother, finding and fixing trouble seems to be all in a day's work
Mace Carson doesn't consider himself a hero. Back in college, he came upon a woman in trouble and intervened but he was just one irate Wyoming cowboy with his boots planted firmly on the side of right. Now a successful vintner, Mace is shocked to be reunited with the woman he saved. But it turns out she's in Wyoming on business a corporate executive representing the company that wants to buy his winery. Only he's not selling.
Kelly Wright has never forgotten that horrible night ten years ago when Mace came to her rescue. The surprising success of a winery in the middle of ranch country has brought her to Mustang Creek, and she's secretly thrilled to discover Mace at the helm. Reluctant to mix business with pleasure, Kelly vows to keep things professional, until her attacker is released from prison and comes for vengeance against both of them.
Very good book. Mace is the youngest of the three Carsons and owns and runs a very successful winery on his family's ranch. The winery is his passion and his focus, besides his work on the ranch with his brothers. Driving home one rainy day, he witnesses a car spin out on the slick highway and rescues the driver from a perilous situation. It turns out that it isn't the first time he's come to the rescue of this person.
Kelly was a freshman in college when she was attacked on her way back to her dorm. Mace witnessed the attack, saved her and held the attacker for the police. He was also instrumental in sending the man to jail. Kelly is now a top executive with a company who wants to buy Mace's winery, and it's her job to make the sale. Kelly is also happy to see Mace again.
I loved seeing the relationship develop between them. Mace is smitten from the start, though unwilling to admit it. Kelly is equally attracted, but has two things arguing against getting involved with him. First is the business relationship. She is there to get Mace to agree to sell his winery to her company. Mixing business and pleasure isn't a good idea. Second, she's wary of relationships now, her divorce wrecking her belief in love and happily ever after. They butt heads a bit at the beginning, first as Mace insists on a doctor after her accident and won't listen to her objections. Then, as she presents her business proposal and he flat out refuses to consider it. Kelly has a lot riding on this deal, and she really wants to convince him, but is pretty sure that he won't sell. I liked how Mace talked Kelly into leaving business behind and introduced her to life in Mustang Creek. When she receives distressing news about her job, it gives her the chance to reevaluate her life. Mace wants to keep Kelly around for a while and explore whatever it is that's happening between them. I loved seeing them get to know each other, exploring their similarities and their differences. There are some pretty sweet scenes as Mustang Creek and the whole Carson family begin to grow on Kelly. It was fun to see Mace dealing with his family's interference and advice as he accepts the truth of his feelings. He knows he has an uphill battle to get past Kelly's fears, but he is definitely up to the challenge. He comes up with the perfect solution for them. His big moment at the end was sweet, romantic, and fun.
There is a bit of suspense toward the end, as the man who attacked her gets out of jail and is bent on revenge. Kelly is worried, not just for herself but for Mace also. When his winery is vandalized, Mace's worry for Kelly increases. I loved seeing the whole family come together to do what is necessary to protect her. The resolution of this particular problem had me laughing out loud.
I loved visiting Mustang Creek and seeing so many familiar faces. The Carson family is wonderful with their obvious love and support for each other. The teasing among the brothers is great fun, but there's no question that they have each other's backs. I also enjoyed seeing Mace be on the receiving end of the same kind of advice he gave in the previous two books. Some of the quirkier members of the town add their own bit of magic to the story.