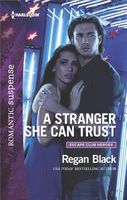 Series;
Escape Club Heroes
(Book 2)
Outside of one of Philadelphia's busiest nightclubs, a woman stumbles from her taxi. Beaten and bruised, Melissa Baxter is an amnesiac with a target on her back. Gun-shy, Melissa relies on a handsome hero to help her uncover who she really is.
Carson Lane -- a paramedic with his own dark history -- can't help but bring this beautiful, vulnerable woman under his wing. Still reeling from his partner's murder, he's no stranger to risk. But as he and Melissa begin unraveling the mystery of who she really is, Carson realizes falling in love could be the biggest risk of all.
Very good book, action filled from the beginning and terrific romance to go with it. Carson is a paramedic who is on medical leave after being injured in an attack that killed his partner. He is suffering from guilty feelings that he should have been able to do something to save her. To cope, he keeps himself busy, working construction during the day and at the Escape Club at night. The club is one of Philly's hottest night spots. It is also a haven for those in need. One night Carson witnesses a badly beaten and bruised woman stumble from a taxi, he steps in to help.
Lissa can't remember anything before exiting the cab and falling into Carson's arms. She hurts, she's terrified, and she absolutely does not want to go to the hospital. She feels safe with Carson and is willing to let him watch over her. She accepts his assurances that her memories will return.
I loved Carson and Lissa. I ached for him and his unhappiness. He's depressed, just going through the motions to get through each day, and reliving the attack, wondering how he could have stopped it. His training kicks in to help Lissa when she arrives at the club, but he's reluctant to take charge of her care after that. Grant insists and it isn't long before something about Lissa reaches past the darkness that consumes him. As her memories begin to resurface it becomes apparent that she is in danger, and protecting her gives him a purpose. Though lost and terrified at the beginning, Lissa still shows an amazing amount of inner strength. As her memories begin to return, she has immense sorrow to deal with, as well as the growing knowledge that she is still in danger. Through it all, she tries to focus on the positive memories of her friend, and stay confident that the truth will be discovered. I also loved seeing her deal with her parents, who were so incredibly oblivious to how fantastic she is.
I really enjoyed the development of their relationship. Carson is a kind and compassionate man, and I loved seeing his care of Lissa. From the comfort of the food he cooks for her, to the loan of his sisters' clothes, to just being there when the memories and the grief hit, he is just what she needs. I loved his protectiveness as the danger escalates. From the moment she met him, Lissa instinctively trusted Carson, and the feeling of safety helped with her healing. In her own grief and sorrow, she recognizes the same in him. I loved seeing her return the comfort, and how she helped him see that he had no reason to feel guilty. Underneath their growing connection was also a simmering attraction that continued to build. There are some sweet and sexy scenes as that attraction pulls them closer together. I loved Carson's big moment at the end - so romantic!
The action and suspense of the story kept me hooked from beginning to end and well past when I should have been asleep. As Lissa's memories begin to return, more questions are raised about why she wasn't killed along with her friend Noelle. Especially as several attempts are made on her life. Then a possible link is discovered between the death of Carson's partner Sarah and that of Noelle. Were they guilty of something terrible, or is there more to the story? The final confrontation at the end was intense, and I wasn't sure how they were going to get out of it safely. I have to say that the revelation of who the bad guy was came as a complete surprise to me.