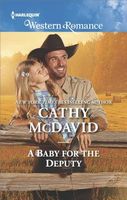 Series:
Mustang Valley
(Book 9)
A BABY ON THE WAY
A secret, no-strings relationship with Aaron Travers has suited Melody Hartman just fine for the past eight months. The lives of the Mustang Valley veterinarian and the deputy sheriff have always been complicated -- and are about to become more so, because Mel is pregnant!
Raising his toddler daughter and protecting his Arizona town are Aaron's priorities. But this unexpected pregnancy is a life changer. The widowed single dad is ready to do the right thing and marry Mel. Can he say the three words she is waiting to hear? Will she think he wants to marry her only because of the baby? Or will she acknowledge that their feelings for each other run deeper than either of them realized?
Good book. Aaron and Mel have been having a secret affair for several months. Neither has been ready for a deeper relationship, so friends with benefits has been perfect for them. But their ability to remain a secret takes a hit when Mel discovers that she's pregnant. That's not the only complication in store for them.
I liked both Aaron and Mel. He is a widower with a three year old little girl. His wife died of a brain tumor and Aaron left his job with a city police department for a slower job with Mustang Valley. This gives him more time with little Kaylee. His former mother-in-law also lives with them, taking care of them both. Aaron has really enjoyed his relationship with Mel and has been thinking about finally bringing it out into the open. Two things have held him back. First is Mel's insistence on secrecy. Second is his desire not to hurt Nancy, his mother-in-law, by being with someone new. There were times when I thought Aaron was a bit too much of a nice guy with Nancy, especially with her attitude about Mel.
Mel is the middle of three daughters. Their mother died when they were young, and their father did the best he could to raise them. She's been busy establishing her vet practice, and doesn't want her loving but interfering family pushing where her relationship with Aaron is concerned. I think there's also a hesitancy to risk her heart after seeing her father's devastation after her mother's death. Her feelings for Aaron have been changing, but she believes his feelings for his late wife are still too deep for him to want anything more with her.
I enjoyed seeing the relationship between Mel and Aaron grow and change. The pregnancy comes as a shock to both of them but Mel discovers that she's actually happy about it. The only thing she worries about is Aaron's reaction. She doesn't want him to think that she's trying to trap him, and goes out of her way to emphasize that she expects nothing from him. Aaron is a standup guy, and there's no way he is going to walk away from his child. He's determined to be involved in every part. The chemistry between them remains just as strong, but now there's a new layer to it. It takes a while for each of them to come to grips with their feelings. Mel accepts hers first, and knows that she can't marry Aaron if he doesn't love her. I ached for her when his attempt to do what's right lacks that which she longs for the most. It takes a bit of danger for him to get over his fears and admit his feelings for her, but his big moment at the end is everything she could want.
There's more than just a baby and their relationship happening in this book. There's a horse thief running loose that Aaron and the other deputies are determined to catch. The thievery has an effect on Mel, as one of the mares stolen has a newborn foal that she is trying to save. It looks pretty bleak until a bit of luck turns things around at the end, in a really heartwarming scene. There's also a shakeup in Mel's family when an unknown half-sister suddenly appears. There's a lot of emotional turmoil as everyone deals with their feelings about the newcomer and the truth about her existence. I thought it was handled very realistically, from resentments and anger to acceptance. I'm looking forward to seeing more of Sam in later books. I also thought that Aaron's relationship with Nancy was done well. Her clinginess bugged me, especially when she badmouthed Mel and tried to interfere. I wouldn't have blamed Aaron for getting angry, but his nice guy attitude won out.