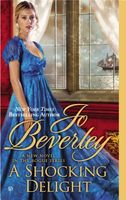 Series:
Company of Rogues
(Book 15)
The man she shouldn't want. The woman he shouldn't marry...
David Kerslake, smuggling master from The Dragon's Bride, is now Earl of Wyvern and must survive the ton as well as the Preventive Officers.
Lucy Potter, daughter of a wealthy merchant, is more interested in trade than in the men after her dowry. When forced to have a London season, she sets out to enjoy herself rather than to find a husband. But once she meets the notorious Earl of Wyvern, her resolve weakens, and when they kiss, it dissolves -- even though her instincts warn he's dangerous.
Wyvern has a dark secret, which means he must win a rich bride. Lucinda Potter seems ideal. Not for her beauty and her lively charm, but because at first meeting she seems unlikely to realize the truth.
As he comes to know her, however, as they spar and kiss, he realizes she's too clever and honest by far. Marrying Lucy would mean living a lie with the woman he has come to love....
Good book. It is an opposites attract, city girl/country boy story. The book opens with Lucy's period of mourning for her mother at an end. She is ready to go back to helping her father with his business as a merchant, and dealing with everything that entails. Except her father drops the bombshell that he is about to remarry and wants Lucy to have a chance to find a husband of her own. Her mother was a member of the aristocracy and he wants Lucy to have a taste of that world. So off she goes to her aunt's home, to have a London Season with her cousin. She doesn't want a husband, but she'll try to have fun. Unfortunately, her aunt reminds her that intelligent, forthright women are not exactly appreciated (at least in her opinion) and reminds Lucy to tone down her personality.
David, who was introduced in
The Dragon's Bride
, is the new Earl of Wyvern. He didn't want the title, but he's stuck with it. The estate is essentially broke, and to do the things he needs to, he must find a wealthy bride. He pragmatically does the research and discovers that Miss Lucy Potter will fit the bill. Unfortunately, he will have to take the time and go to London to woo her. Complicating matters, he is also the head of the local smugglers, also unwillingly, and needs to keep that information under wraps. He's hoping Miss Potter is a typically empty-headed society miss.
I loved the way the two met by accident, not knowing who the other was. Their encounter takes place in a bookshop. David is looking for books on modern estate management. Lucy is looking at novels that will help her with her image of "silly Lucinda" while she is stuck dealing with society. When she also picks up a book on smuggling, they fall into a conversation about it. Lucy is pointed in her opinion that smuggling is wrong and must be stopped. David, of course, knows that things are not quite so simple. There are sparks of attraction under the surface, and each leaves the shop still thinking about the other.
When David meets Lucy officially, in his guise of Earl in pursuit of a wife, he is stunned to discover his woman of choice is the same as his bookshop acquaintance. Despite her illusion of empty-headedness, he knows she's not the oblivious woman he needs to marry. He tries to put her out of his mind, but finds it impossible. Lucy is equally drawn to him, but has no desire to marry at all, much less to an avowed fortune hunter. Their relationship grows slowly, with a few meetings in the park and at various society functions. Lucy is having trouble with overzealous suitors and David offers to pay his attentions to her, thereby discouraging the others. It doesn't take long for Lucy to realize that David is the one for her. But just as she does, he pushes her away and leaves London.
David has realized that his feelings for Lucy are too strong to put her in the position of having to deal with his secret life. Though he still needs money for his estate, he doesn't want anyone but her. An encounter with Lucy's father emphasizes the point. But Lucy isn't one to refuse a challenge and follows David to his home. David's stunned surprise is fun to see, and his efforts to scare her off were pretty blunt. But Lucy knows what she wants and isn't going to be discouraged by anything he shows her. It doesn't take her too long to figure out his secret and deals with it surprisingly well. She also keeps her head during a crisis and saves the day from unexpected trouble. This cements their determination to be together. I loved seeing them talk about their expectations and work out their future together.
I enjoyed seeing the changes that both David and Lucy go through. Each started the book hiding their true selves from others, but when they are together the masks slip. Lucy seemed a bit selfish and determined to have everything her way at the beginning, but as her feelings for David grew, so did her willingness to change. I really enjoyed her reactions to Crag Wyvern. David's determination to find a rich bride was logical in his circumstances. It was fun to see him realize that the one he wants is nothing like he expected. I liked the way that he appreciated Lucy's intelligence and treated her accordingly. I loved seeing him finally accept that he really could have it all.
I liked seeing the various Rogues who made brief appearances in the book. I especially liked seeing Nicholas take a hand in getting David and Lucy together. I also enjoyed seeing Susan and Con again.