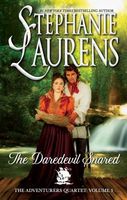 Series:
Adventurers Quartet
(Book 3)
Captain Caleb Frobisher, hedonistic youngest son of a seafaring dynasty, wants to be taken seriously by his family, and understands he has to prove himself sufficiently reformed. When opportunity strikes, he seizes the next leg of the covert mission his brothers have been pursuing and sails to Freetown. His actions are decisive, and he completes the mission's next stage -- but responsibility, once exercised, has taken root, and he remains in the jungle to guard the captives whose rescue is the mission's ultimate goal.
Katherine Fortescue has fled the life of poverty her wastrel father had bequeathed her and come to Freetown as a governess, only to be kidnapped and put to work overseeing a child workforce at a mine. She and the other captured adults understand that their lives are limited by the life of the mine. Guarded by well-armed and well-trained mercenaries, the captives have been searching for some means of escape, but in vain. Then Katherine meets a handsome man -- a captain -- in the jungle, and he and his crew bring the sweet promise of rescue.
The sadistic mercenary captain who runs the mine has other ideas, but Caleb's true strength lies in extracting advantage from adversity, and through the clashes that follow, he matures into the leader of men he was always destined to be. The sort of man Katherine can trust -- with her body, with her life. With her love.
This is the third book in the series and my favorite so far. At the end of the previous book,
A Buccaneer at Heart
, Caleb has stolen Robert's journal and departed for Freetown, to take up the next leg of the investigation. He is the youngest of the brothers and considered to be rather reckless. He wants the respect and trust of his brothers, and has been unable to convince them that he can be responsible.
As this book opens, Caleb and his crew, and fellow captain and friend Philippe and his crew, have located the slavers' camp and take it upon themselves to wipe them out. They are also smart enough to make it look like the slavers have simply moved on to greener pastures. Their next move is to find the mine and send its location back to England for them to mount a rescue. In doing so, they meet a young lad and one of the women, the only two captives allowed outside the gates of the compound.
Kate is the missing governess, who was taken to be in charge of the children. She is stunned by the presence of Caleb and his men. They bring hope to a group who have increasingly realized that they won't leave the jungle alive. Kate is able to make use of her trips outside the gate to get information to Caleb that is useful for his mission. She knows he'll have to leave, to return to England, but the hope he leaves behind will have to sustain them.
But Caleb can't bring himself to leave the lovely Kate and others in danger. So he sends the information off with his ship and most of his crew, while he, Philippe and others remain behind to watch over the captives. Unfortunately, the mercenary in charge of the mine discovers the men and makes them captives too. Caleb isn't too concerned. He is a man who is used to making the best of situations, and he immediately settles in to becoming part of captives' unit.
I have to say that I loved Caleb. He is one of those people that nothing can keep down for long. He is also smart, intuitive, and easy to like. He quickly makes a place for himself with the captive leadership, helping them to find ways to help themselves. A realistic look at the obstacles they face has them pulling together to survive until they can be rescued. I loved seeing Caleb's natural leadership abilities emerge. He doesn't simply take charge, he involves everyone, right down to the children, in the efforts to save them all. Of course, one of his biggest motivations is the desire to get to know Kate better. Kate is the perfect match for him. She is just as strong a leader and devotes her efforts to keeping hope alive among the women and children. She is also clever and thinks well in crisis situations.
I loved the development of the relationship between them. Caleb had been taken with her from the moment he saw her, meeting her simply solidified his fascination. Kate's fascination with Caleb was equally strong. Somehow, in the midst of the danger, they manage to have a truly wonderful courtship. With nothing but time stretching in front of them, they have the chance to truly get to know each other. Some stolen kisses ramp up the attraction they feel, and the hope that they will survive to explore it further.
But not everything goes smoothly. The captives are fully aware that when the mine is played out, they will be killed. They have to find a way to keep the mine going until their rescue can be accomplished. One tunnel is nearly depleted, and they have no idea how many diamonds are in the second tunnel. Plus, with the addition of Caleb and his men, there are more bodies able to dig. When it looks like that tunnel may play out before they are ready, the captives must come up with ways to delay that won't rouse the suspicions of their captors. I loved the spirit of cooperation that imbues them all, and the cleverness of their actions. But things look increasingly bleak as their efforts still bring them up short. The arrival in camp of one of the conspirators from town is just one more straw to be dealt with. A desperate attempt nearly goes horribly wrong, but in the end, brings an unexpected reprieve. We are also left with a cliffhanger, as the captives are still waiting for their rescue.
In the final part of the book we also finally get a look at the backers of the mine, and discover just how evil and highly placed they are. Their greed knows no bounds, and two of them decide that it's time to go to Africa and apply their own brand of motivation.
We also see Caleb's ship arrive, and the information sped to London and Caleb's brothers. Just as they are reading it over, still in the hallway, a carriage arrives, obviously in a hurry. From that carriage steps the oldest brother, Royd, who had been sent for by Wolverstone. To the shock of Robert and Declan, Royd is not alone. With him is a woman, referred to only as "Trouble". I'm so glad I already have the fourth book, as I would not want to have to wait to read the conclusion to this exciting series.