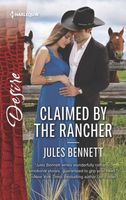 Series:
Rancher's Heirs
(Book 2)
Just how far is this wealthy rancher willing to go for his pregnant lover?
Their years apart haven't diminished Nolan Elliott's desire for Pepper Manning. Even knowing she's pregnant with another man's baby, the rancher can't stay away. He didn't claim her when she needed him so long ago and the sting of losing her, and their child, still resonates.
With custody of her unborn baby now in jeopardy, Nolan vows to use his wealth and power to give Pepper everything she wants. That means proposing a marriage…in name only. But is that a vow the rancher stands any chance of keeping?
Very good second chance story. Nolan made his first appearance in
Twin Secrets
, as the oldest of the Elliott men. There's something in his past that gives him the experience to help Colt through his romantic difficulties. In this book we get his story. Ten years earlier, Nolan and Pepper had been young and in love, making plans for a future together. But an unexpected pregnancy followed by a miscarriage drove them apart. Now Pepper is back in town, pregnant with another man's baby.
From the moment they meet again, it is obvious that the sparks are still there between them. In the years since they parted, Nolan has dedicated his life to his work with only superficial relationships outside it. He's never forgotten her and his regrets for the way he handled the loss of their baby. Pepper has been drifting through life, looking for her place and purpose in life. With her unexpected pregnancy she has come back to Stone River to rebuild her life. She hadn't expected to run into Nolan so soon, and it's quite a shock to both of them. When her apartment catches fire that night, Nolan happens to be in the area and saves her. His protective instincts kicking in, he steamrollers her into coming home with him that night. But fate isn't done with her yet, and the next day the parents of the baby's father show up, telling her they are going to sue for full custody. I ached for Pepper and her fear of losing this child she wants so much. Nolan can't stand to see her hurting like that and decides that the only way to make amends for the past is to help her now. Pepper doesn't want to accept his help, but doesn't really have any choice if she wants to keep her baby.
I loved the development of their relationship. Nolan has convinced himself he is only helping her because of his guilt over how he had treated her before. And because the attraction is still so strong that he wants her in his bed again. But he doesn't want anything permanent because he's not about to open himself up to that kind of hurt again. He even goes so far as to marry her to ensure that the custody suit goes her way, still insisting that it is only temporary. I loved seeing that, no matter what he says, his feelings are getting involved. There are some really sweet scenes of him doing anything he can to make her happy, from shopping for baby things to indoor picnics. He's also super protective and I loved seeing him take care of her. Pepper is very reluctant to accept his help because she can see herself falling for him all over again. She doesn't want to risk that kind of devastating pain again. I loved watching her try to maintain her independence, reminding herself that it's only temporary. But his care and consideration work their way past her walls, and she can't deny that she's never stopped loving him. When the need for their marriage ends and Pepper leaves, Nolan finally faces the truth about his feelings. I loved his big moment at the end when he finally opens his heart to her.
The family is also a central theme to the story. Though medicine is his calling, being part of the family ranch is a big part of who Nolan is. I liked seeing his bit of envy over Colt and Annabelle's happiness together, reminding him of what he could have had. I loved seeing how quickly Pepper and Annabelle became friends. We also see a bit more of Hayes, the military brother, as Colt and Nolan prepare for his homecoming. The epilogue is a lead-in to his story as we get a glimpse into the pain that is driving him. I can't wait for his book.