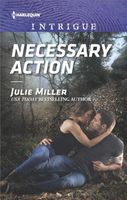 Series:
Precinct: Bachelors in Blue
(Book 3)
Learning to trust could bring them together -- keeping secrets could tear them apart
Going undercover to take down murderous gun smugglers is what Duff Watson lives for. Until he tracks the ring to a Missouri farm…and meets paramedic Melanie Fiske. Now the KCPD detective has another critical task: winning over the curvy redhead who tempts him yet whom he can't let himself trust.
Something about the protective ex-soldier makes Melanie believe he can help her find out the truth about her family. And the desire Duff awakens feels like the real thing. But when Melanie's life is threatened, can she keep trusting -- and loving -- a man who lives a life of dangerous deception?
Another gripping episode in the Bachelors in Blue series. It opens, as did the previous two books, at the wedding of Olivia and Gabe. We see Duff, the oldest, who tends toward the grim and brooding, in a moment of unexpected sentimentality. It doesn't last long as he tries to bring his two brothers back under control from their joking around. When the shooting occurred, it was Duff who went after the shooter, and whose frustration is evident as the man gets away. His grandfather's nearly fatal injury just increases his determination to find the shooter. Thanks to information uncovered in the first two books, Duff is assigned to go undercover to investigate possible weapons trafficking. He meets Mel the day he arrives at the farm.
Mel is the niece of the couple who runs the farm. Her father died when she was eleven, and her aunt and uncle raised her. Other than a year away getting her EMT training, Mel has lived there her entire life. But lately, she has seen and heard things that make her believe that there is something sinister going on. She's doing her best to investigate without getting herself into trouble.
Duff and Mel meet when she treats him for injuries received when he is "welcomed" by his new employer. Something drove Mel to interfere in the fight between Duff and the head of security, though she isn't sure what. I loved the immediate connection that formed between them during that first encounter. Duff is surprised by the attraction he feels to Mel, but is wary, as he had a bad experience during a previous undercover assignment. Mel is also attracted, but wary because he is one of her uncle's men. Duff senses the attraction and plans to use it to get close to her and further his investigation. I loved the banter between them, as Duff teases Mel with his interest in her and she tries to shut him down. But she is also intrigued by him and his effect on her. Over the next couple weeks, they develop that connection into a solid friendship. It was sweet to see how that friendship led to a deeper bond as they shared sorrows and dreams. Duff became very protective of her, stepping in between her and Silas several times.
Mel is also very intelligent and very curious. Something tells her that Duff isn't exactly what he appears to be and she follows him one night. I loved seeing her confront Duff when she discovers him with his contacts. Once all their secrets are exposed, the trust between them is given a chance to grow. There is also the sense that what is between them is more than just chemistry. I loved seeing the gentle side of Duff come out whenever he was around Mel. She is also fiercely protective of him, which leads her to take some risks at the end. I ached for Duff and his fear for her, especially when he remembered what happened to his mom. I loved Mel's bit of humor at the end, which lightened the mood a little as they shared their feelings.
The suspense of the story was great. The story behind the Fiske farm and what it has evolved into shows just how horrible Mel's aunt and uncle are. The more I saw of their manner of controlling the people around them, the creepier I found them. I loved Mel's determination to get to the truth about her father's death, even though the pressure exerted on her to stop grew just as fast. Duff was understandably wary of trusting Mel until he could be sure of her innocence, but once he was their teamwork was fantastic. With each new clue uncovered, the intensity increased. The discovery of what was behind the locked door blew the case wide open but also increased their danger. The final confrontation was really frightening as Mel's life was at risk. It ended rather abruptly, skipping some of the details of the fight, which was a bit disappointing, but overall a satisfying conclusion.
There were a few more revelations about the link between the Fiske farm and the attack at the wedding. While the identity of the shooter was revealed, the man behind it is still a mystery. Once again, the epilogue was from his point of view and is a lead-in to the next book. I can't wait to see how it is finally resolved.

One of the things I loved about this book was the closeness of the Watson family. I loved how they always have each other's backs no matter the situation. I liked the banter at the wedding, and also the concern that both Niall and Keir showed when they met him during the mission. Especially heartwarming was how the entire family showed up at the hospital to support Duff while he waited for Mel to get out of surgery, and how they were all ready to embrace her as part of the family.