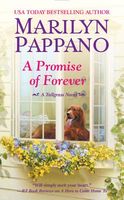 Series:
Tallgrass
(Book 4)
Sergeant First Class Avi Grant's return to Tallgrass, Oklahoma is a long-deferred wish come true. With her final tour in Afghanistan over, Avi can focus on her future-a job here at home and a family of her own. There's just one thing she has to do first: visit her beloved commanding officer's widow and share her grief. The last thing she expected was to feel an instant attraction to the woman's son. Too bad the sexy surgeon is impossible to ignore . . . and even harder to resist.
The sting of his parents' divorce still niggles at Ben Noble. So when a warm, funny, and beautiful young sergeant arrives, mourning his stepfather's loss as strongly as his mother does, Ben can't help but feel conflicted. If his parents taught him anything, it's that love doesn't last-especially with a career soldier. But try as he might to keep his distance, Ben begins to see that Avi-and the spark she brings to his life-is the stuff forever is made of. As Avi's leave ticks away, can Ben convince her to take a chance on forever with him?
In the previous book,
A Love to Call Her Own
, we met Patricia and Ben. Patricia is the newest member of the widows group, the Tuesday Night Margarita Club. Ben is her estranged son. He is a surgeon who lives in nearby Tulsa. In the previous book he began to reconnect with his mother, after his stepfather's death. He comes to Tallgrass on weekends to see if she needs anything. Their relationship is slowly improving, though still somewhat strained. He still resents that she left his father, sisters and him to marry George, and pretty much ignored them for years.
Avi is a soldier home on a month's leave. Her grandparents lived in Tallgrass and her parents recently moved there. George had been a good friend of her parents and a mentor and role model for her. She had been serving with him in Afghanistan when he was killed, and it was one more death on top of others that have left her hurting. One of the first things she plans to do is visit Patricia. She does not expect to meet Ben.
The attraction between Ben and Avi is immediate. Neither one is particularly happy about it at first. Avi knows she only has one month in Tallgrass before she returns to Georgia and her next duty assignment. Getting involved with a man who is rooted in Oklahoma would not be smart. Ben certainly isn't looking to get involved with someone in the army. First, he associates the army with his mother's desertion of the family. Second, he has no desire to uproot his own life and leave his practice and his sisters behind.
I liked the development of their relationship. They acknowledged the attraction and were honest with each other about their future plans. Avi has eight years left in the army before she retires. She likes what she does and plans to stay. She wants a family of her own, and hopes to find someone that's right for her. Ben is clear on his plans to stay in Oklahoma. They make the decision to spend time together anyway. They know their relationship has an "expiration date" but spend as much time together as they can. I loved seeing how much fun they had together. Though they don't always see eye to eye on everything, there are no major disagreements between them. I especially loved seeing how Avi's relationship with Patricia and George, and sharing memories of him, helps Ben deal with some of the resentment he still had. As the days went on Ben and Avi both realized that their feelings were growing far deeper than they had planned. I ached for them both as it looks like there is no way for them to be together. Avi has no real choice, as she still has at least two years before she could get out, even if she wanted to. Ben I wanted to shake a few times, because it would be so easy for him to pick up and go. I loved the heart to heart conversation with Patricia that makes him think about his future without Avi, and his sisters' two cents that seal the deal. His big moment at the end was great.
I loved the realism of the life of the military people and their families in Tallgrass. The good is shown with the bad, such as the depth of the friendships and the support that is always there. There is also the bad, such as the deaths, injuries, and mental problems. We were introduced to Calvin Sweet, another Tallgrass native, who is having trouble dealing with the memories that have built up over the years. A heartbreaking and scary moment with him is an excellent lead-in to the next book. I also liked seeing more of Lucy and Joe, who are good friends. It becomes increasingly clear that Joe would like more than just friendship, but Lucy is blind to it.
There are also some wonderfully fun moments to lighten the mood. The post-it notes that Avi's mom leaves around the house for her were great. I loved her parents' attitude toward Avi and Ben's relationship, accompanied by a terrific scene with Ben's mom the night before Avi leaves to return to Georgia. My heart melted when Avi went to the animal shelter with her mom and came home with a new friend.