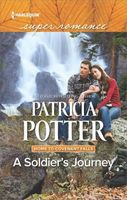 Series:
Home to Covenant Falls
(Book 3)
One brave step at a time
Lieutenant Andrea Stuart survived the war-zone attack that took her fiancé. A therapy dog and a cabin in Covenant Falls are all the risks the former military nurse is willing to take anymore. But as Andy's drawn into writing the history of the small town, she's also drawn to Nate Rowland.
As rugged as he is jaded, Nate's committed to helping fellow veterans -- and avoiding a new relationship. Keeping her distance might be smart, but it's hard to stay away when Andy sees that Nate has a few scars of his own. Together they might find a path toward healing…and so much more.
Terrific book. It's time for a new veteran to experience the healing effects of Covenant Falls. This time it's army nurse Andy Stuart. She is an army nurse who survived an attack that killed her doctor fiancé and others in her unit. She suffered injuries that have made it impossible to continue in her career, and memories of the attack that give her no peace. Upon the recommendation of her doctor, she accepts a therapy dog and use of the cabin in Covenant Falls until she decides what to do with her future. The first person she meets is Nate Rowland, fellow veteran and resident of Covenant Falls. He's committed to helping fellow veterans, but Andy gets to him like no one else ever has.
I loved the slow and gentle progression of their romance. There is attraction between them from the beginning, but neither wants a relationship. Andy is still grieving the loss of her fiancé, and the thought of wanting someone else feels like a betrayal of Jared's memory. Besides, who would want someone as damaged as she is, physically and mentally? Nate is right there with her. He's been burned once, surviving a marriage that shattered his trust in his own judgement and in relationships in general. I loved seeing Nate draw Andy out of her isolation and into the life of Covenant Falls. I loved his sensitivity and compassion when she suffered a flashback, and how he helped her through it. Andy has her own effect on Nate, as the pain of his ex-wife's betrayal is overcome by his growing feelings for Andy. I especially loved Nate's patience, as he lets Andy know that he won't push her for more than she is ready to give, but he also doesn't hold back on showing her how he feels. There are some really emotional scenes as each of them shares their pain with the other. I loved the ending, as Andy realizes that her heart has found a home.
Once again, I loved seeing the people of Covenant Falls take another veteran to their hearts. I loved Eve's instinctive matching of Andy with the perfect project, using her love of history to draw her into helping to promote the town. It was fun to see Andy's acceptance of the challenge, and how it expanded past everything they could have imagined. I loved how she drew Al and his wife into it, helping to heal the rift between him and the town. I really liked how the other veterans provided support for each other, with as little or as much as was wanted. I enjoyed Andy's introduction to the "support group", and how her first meeting there went. It was so much fun to see the entire town get involved in the project (camels!), and Andy's amazement at how much she enjoyed it. I loved the surprise at the end and what it meant for Andy's future.