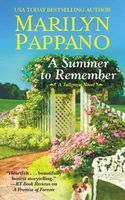 Series:
Tallgrass
(Book 6)
FIRST LOVE NEVER FADES . . .
It's been a long time since widow Fia Thomas felt the spark of physical attraction. But from the moment she meets Elliot Ross one stormy night, she yearns for a fresh start, for him to make her feel whole and well again. With his broad shoulders and a warm smile crinkling his dark eyes, he could finally offer her the solace she's been seeking. And she's willing to give him anything in return . . . except a promise that could break his heart.
Now that Elliot is out of the Army, he's looking for a place to call home. Tallgrass was just a stop to stretch his legs, yet one look at Fia halts him in his tracks. In her sweet, sassy company, he finds the soul mate he never thought he'd have. But Fia is holding something back-something that keeps her from making any plans. Elliot's new mission: gain Fia's trust...and convince her that summer's end can mean a new beginning.
Good book. Fia and Elliot meet by chance one night in the rain. Elliot has recently left the army and is looking for a place to call home. During the journey he rescued and adopted a dog he named Mouse, and it is while walking her in the rain that he meets Fia. Fia is one of Tallgrass's Margarita Girls, an army widow putting her own life back together.
I loved both Elliot and Fia. Elliot is one of those naturally upbeat people. He is sweet and sensitive and just plain wonderful with people. He's been wandering the country for six months, working odd jobs and looking for a place where he feels at home. He's a good looking man who loves women, but is not a player. He loves to cook and bake and make people happy. He grew up in a happy family, with parents who loved each other and their kids, and is looking for some of that for himself.
Fia has had a tougher life. She grew up with parents who didn't want her and made sure she knew it. She was pretty wild as a youngster, until she met and married Scott. They had been happy together until he was killed in the war, and she was back to being on her own. Fortunately she has the other Margarita Girls as her support, which becomes very important when she starts suffering from a mysterious illness.
I loved the development of the relationship between Elliot and Fia. There were sparks between them from the moment they met. Elliot's attention makes Fia feel like a normal woman again, something that has been missing for a long time. Elliot believes he may have finally found the woman who will give his heart a home to belong to. I loved seeing them get to know each other, sharing meals and walks with the dog. Elliot finds a job as a baker with two of the other Margarita Girls, Patricia and Lucy. Fia is happy to enjoy her time with Elliot for as long as it lasts. She keeps her health issues under wraps, not wanting to wreck her relationship with him. By the time she realizes that her feelings for him have grown deeper than she planned, she doesn't know how to tell him. Elliot's feelings for Fia grow quickly, though he senses that she is holding something back. I ached for Elliot when Fia had an episode with her illness and he had no idea what to do. Then Fia tried to push him away, not wanting to be a burden to him. I loved how Elliot refused to be pushed, and instead showed her just how much he cared. Her illness wasn't minimized, instead they had realistic conversations about it, and Elliot made clear that he was with her no matter what. I loved seeing her allow herself to lean on him. I loved the ending and Elliot's heartfelt statement of his feelings.
There was also a secondary story involving another Margarita Girl, Marti. She has been on her own for several years and is managing just fine. Then her life is shaken up a bit, as her fourteen year old niece, Cadence, comes to live with her for a year while her parents are overseas. Cadence is a sweet girl and fits in better than expected into Marti's life. There are some really sweet scenes between the two of them. I especially liked the one where Cadence takes it upon herself to add some color to Marti's wardrobe. It is also though Cadence and her love of horses that Marti is brought into contact with Dillon. Dillon was the wild child in his family and ended up making some bad decisions in his life. He's back in Tallgrass after having paid for those decisions. He and Marti are unexpectedly drawn to each other. I loved seeing the beginnings of something special between them, and would love to see a book with their story. I'd also like to see more of Cadence, who I think would have a much happier life with her aunt than with her own parents.