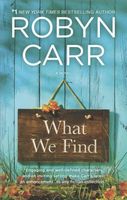 Series:
Sullivan's Crossing
(Book 1)
Between the urban bustle of Denver and the high-stress environment of a career in neurosurgery, Maggie Sullivan has hit a wall. When an emergency high-risk procedure results in the death of a teenager, Maggie finds herself in the middle of a lawsuit -- and experiencing levels of anxiety she's never faced before. She knows she needs to slow down before she burns out completely, and the best place she can think to do that is Sullivan's Crossing.
Named for Maggie's great-grandfather, the land and charming general store at the crossroads of the Colorado and the Continental Divide Trails have been passed down through the generations and now belong to Maggie's eccentric father, Sully. When she shows up unannounced, he welcomes her with open arms, and she relishes the opportunity to indulge in his simple way of life.
But shortly after arriving, Maggie's world is rocked once again, and she must take on more responsibility than she'd planned. Though she's relieved a quiet and serious-looking hiker, Cal Jones is willing to lend a hand, Maggie is suspicious of this mysterious man's eagerness to help -- until she finds out the true reason for his deliberate isolation.
Though Cal and Maggie each struggle with loss and loneliness, the time they spend together gives Maggie hope for something brighter just on the horizon…if only they can learn to find peace and healing -- and perhaps love -- with each other.
Good book about two people who are looking for answers after their lives undergo massive shake-ups. Maggie is a neurosurgeon in a busy Denver hospital. She has a boyfriend who is just as busy as she is. When her co-workers in her practice are accused of fraud, then she is sued by the parents of a patient she lost, her stress goes through the roof. Add in an unexpected pregnancy that ends in a miscarriage, a boyfriend who is a total jerk about it, and her emotions are all over the place. She finally arrives at the point where she knows she has to get away, so that's what she does. She goes home to Sullivan's Crossing, where her father runs a campground and general store. An absence of judging and the opportunity to share in his simple life gives her the respite she needs. Then Sully is taken ill, and she has to step up and take care of him, plus the campground. She couldn't do it without the help of his friends, including Cal Jones, a mysterious camper who is eager to do whatever is needed.
Cal is an attorney who was very successful. He had it all - great reputation, nice house, and the love of his beautiful wife. Then she came down with a devastating illness, and by the time it was all over his material possessions didn't hold the same meaning any longer. Feeling lost and lonely, he set out to hike some of the trails around the Continental Divide, which brought him to Sullivan's Crossing. While waiting for the trails to warm up, he finds comfort in the people around him.
Maggie is suspicious of Cal at first. First, she thinks he's homeless, and that he certainly has no direction in his life. He seems content to just hang out, read his books, and chat with Sully. She can't deny that he's good looking, and that she feels a certain attraction to him. When he jumps in to help with the campground while Sully is recovering, she gets a chance to get to know him. What she finds is a charming, well-read man with a sense of humor and an amazing sense of calm around him. Their friendship starts with banter and teasing and an attraction that simmers just below the surface. As the weeks go on, that simmer grows stronger, and pretty soon the kisses lead to more.
I loved seeing the relationship develop as each of them shares what has brought them to this point in their lives. Cal gives Maggie a quiet port where she can look at her life and the choices that are open to her. He doesn't push or direct or even suggest, he's just there when she wants to talk or just be together. Maggie gets Cal out of his funk and to start living again. Neither one pushes the other to give more than they are ready for, but instead provides the support needed to deal with their issues. I loved seeing them back each other up when complications would arise. I especially loved seeing Maggie dealing with Cal's parents in such a kind, yet matter-of-fact way. It was just what Cal needed to realize that, though his parents are part of him, they don't define him. I really enjoyed seeing that their relationship grew with mature discussions and understanding of what's important, without any major arguments or drama. The ending was sweet and romantic and just right for them.

I loved the setting of Sullivan's Crossing. The people are fun, diverse and interesting. The stories of the various campers who came through the crossing were varied and fun. I loved Sully and his unquestioning love for Maggie. They had their issues at the beginning, but her extended time with him gave them a chance to resolve them. I enjoyed how everyone around him helped with his recovery. His friend Tom was great, as a single father of four and a busy life that wasn't too busy for his friends. His ex-wife's problems gave Cal a chance to dip his toes back into the world of lawyering. Tom's son also provided tension at the end with a search and rescue mission that had an unexpected twist for Maggie. I am looking forward to the next book and seeing what's in store for the people at Sullivan's Crossing.