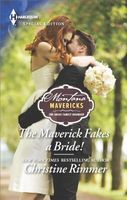 Series:
Montana Mavericks: Great Family Roundup
(Book 1)
Do You Take This (Faux) Fiancée?
Rust Creek Ramblings
All the single ladies in Rust Creek Falls know Travis Dalton. And they all know the sexy, rascally rancher is not the marrying kind. So how is it that our town's most notorious bachelor has wound up engaged on a Western reality TV show?
We here at the Gazette are pleased The Great Roundup has chosen our hometown heartbreaker as a contestant. And we are definitely rooting for Travis's unexpected union with childhood friend Brenna O'Reilly, the one girl we believe can keep this cowboy on his toes. But is it true this betrothal is strictly a fabrication for the cameras? Pass the popcorn, dear readers. We suspect this made-for-TV romance could be headed straight for a Hollywood happy ending!
Very good book. It had me hooked from the first page to the last, and has me hoping to see more of Travis and Brenna in later books. Travis is determined to win a spot on The Great Roundup reality show. The winner gets a million dollars and he has plans for that money. But he runs into a snag when the producers want to know if he has a girlfriend. So he stretches the truth and says yes, not expecting them to insist on meeting her. Not only that, they turn said girlfriend into a fiancée. Desperate to make the final cut, Travis goes to Brenna and proposes a deal: she pretends to be his fiancée and he'll split the money with her if they win.
Brenna has loved Travis since she was six years old, but he always considered her too young for him. Helping him out with this will do two things for her: earn the money to make her future plans happen, and give her the chance to show Travis that she's a grown woman.
I loved the development of their relationship. From their appearance at the Ace in the Hole and Brenna's "audition" for the show, to the very end, their chemistry is fantastic. Spending as much time together as they do, thanks to the show, just confirms to Brenna that she loves Travis and nothing is going to change that. For Travis, his attraction to Brenna comes as a surprise and he does his best at the beginning to fight it. It's a losing battle, and I loved watching him fall. There is some drama provided by a rodeo queen who has set her sights on Travis, and some terrific scenes of Brenna staking her claim. There's a sweet scene involving Travis, a bottle of whiskey, and some alcohol induced confessions, that brings hope to Brenna that they may have a future together, even though he is still fighting his feelings. I loved seeing them give in to their attraction as it deepened their connection. Their night back at the Lodge was steamy and funny too, and I loved their appropriation of some of the room's "amenities". The end of the filming, including the agreed upon special event, brought everything to a thrilling conclusion. I loved their big moment at the end, with Travis finally realizing his feelings. His sensitivity to her fears opened the door for them to really talk. I loved what they decided and would love to be a fly on the wall when they are finally able to talk about it.
I really enjoyed the reality show setting. It was fun to see Travis's preparations and how he dealt with the audition process. Once the filming started, I loved the various challenges and seeing how they were handled. The diverse personalities made things even more interesting. I loved the friendships that were made, especially with Steve and Roberta. I even enjoyed the rodeo queen, Summer, because her actions helped show what a great guy Travis was. I'd love to see reactions when the show airs.

*copy received in exchange for honest review