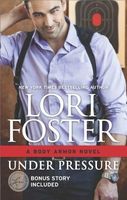 Series:
Body Armor
(Book 1)
He can protect anything except his heart
Leese Phelps's road hasn't been an easy one, but it's brought him to the perfect job -- working for the elite Body Armor security agency. And what his newest assignment lacks in size, she makes up for in fire and backbone. But being drawn to Catalina Nicholson is a dangerous complication, especially since it could be the very man who hired Leese who's threatening her.
What Catalina knows could get her killed. But who'd believe the sordid truth about her powerful stepfather? Beyond Leese's ripped body and brooding gaze is a man of impeccable honor. He's the last person she expects to trust -- and the first who's ever made her feel safe. And he's the only one who can help her expose a deadly secret, if they can just stay alive long enough…
Great start to the new series. Leese, who first appeared in
Holding Strong
as a brash, cocky young fighter, has since left the MMA scene. In the earlier book, he made some mistakes that put another person in danger. Though he owned up to his actions and was forgiven for them, he hasn't really forgiven himself. He takes his new job as a bodyguard very seriously. In this book, he is assigned to protect Cat; a rich girl turned teacher who has found herself running for her life.
The book started with a bang, as Leese, who was hired to find and protect Cat, saves her from some thugs. She doesn't know quite what to make of him and his associate, Justice. Having been on the run for a couple of months, she's wary of them, but also has an instinctive feeling that she can trust them. That feeling is quickly confirmed when they protect her from one of her more relentless pursuers. But the danger isn't over, and Leese spirits her away to a safe place while they try to figure out how to end the threat. Attacks aren't the only thing they have to deal with. There is an intense attraction between Leese and Cat from the very beginning. Leese tries very hard to resist it, as getting involved with a client is a bad idea, plus a distraction that could be deadly. On the other hand, Cat wants Leese with a determination that is hard to deny. I loved her attempts to seduce him and his increasingly unsuccessful attempts to resist. He especially worries that she is only attracted to him because he is protecting her. When they finally give it, the heat is explosive. It also quickly becomes more than simply physical attraction. Leese is drawn to her quirkiness, and also her unexpected courage and inner strength. It was fun to see him try to keep her under control when she made up her mind about something. Cat was a fun character. She was quite blunt, saying pretty much whatever came to her mind. She had no problem letting Leese know when she didn't like something. She also had her own protective streak, which led to an occasional bad decision on her part. I loved seeing the two of them get to know each other while they were hiding out, from their differing eating habits to Cat's attempt to work out while watching Leese do his workouts. As their feelings for each other deepened, there was a hint of vulnerability in each of them as they wondered if their feelings are returned. I loved Leese's big moment at the end.
The suspense and action of the story were fantastic. From the first page to the end, there was no question that Cat was in danger. The various attacks varied from creepy to intense, but always exciting. I ached for Cat and her feelings of betrayal after overhearing her stepfather and his associates. I was really impressed with the way that she was able to evade capture for so long. I was also a bit frustrated with her refusal to tell Leese and the others everything right from the start but also understood her fears. There were also a few scenes from the bad guys' point of view. It was difficult to tell at times just who was behind Cat's pursuit, which added to the suspense. There was also a creep factor added by the other bodyguard. There are some great scenes of Leese's protective abilities combined with his quick wit. The final confrontation was exciting and nerve-wracking, and I loved Cat's quick thinking and courage. The wrap up of the complete mystery was perhaps a little too quick and easy, but still satisfying.
I really enjoyed seeing some of the characters from the Ultimate Fighter series. Besides Justice, whose story I am looking forward to, I especially liked seeing Cannon and Denver again. I loved that Denver has completely forgiven Leese for what happened. The support and friendship of the other fighters were clear. I especially loved their scene at the hospital with Enoch. Another secondary character was the head of the Body Armor agency, Sahara Silver. She was one feisty woman and I can't wait to see more of her. I also wonder if there is more to her brother's death than is currently known, and if that will play a part in a later book.