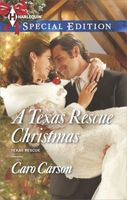 Series:
Texas Rescue
(Book 2)
Home for Christmas
Trey Waterston has been on the outside looking in for so long he nearly forgot where home is. But when he has to go back to the ranch that is his Texas birthright, he expects it to be as difficult to navigate as everything else in his life. He does not expect to find a halfhearted search afoot for a missing heiress. Beautiful and innocent Rebecca Cargill has disappeared, and nightfall -- and a snowstorm -- is coming. If they don't find her, she could die.
Not on my watch. Instinctively, and directed only by a photograph, Trey knows he is the only one who can help her. Maybe he can finally claim his legacy. But why is he suddenly so sure Rebecca is a part of it?
I loved this book. Trey is part owner of the James Hill Ranch, but hasn't been home in ten years. After a promising college football career ended with him flunking out of school, he has spent his time working out of state and trying to hide what is happening to him. After one too many blows during football games, Trey suffers from memory problems, ones that make him feel stupid and useless. When he receives an invitation to his brother's wedding, he knows it's time to go home, but he dreads it. He arrives home in the middle of a search for a missing wedding guest.
Rebecca has spent her entire life under the thumb of her social-climbing, money-grubbing mother. She has had no life of her own. When her mother announces that it's time for Rebecca to start pulling her weight by accompanying her and a gentleman friend on a trip, Rebecca has had enough. She flees to her former stepsister, Patricia, who just happens to be marrying Trey's brother. She arrives in the middle of a storm to find that Patricia isn't there. A disturbing call from her mother sends Rebecca fleeing across the ranch on a borrowed ATV, unprepared for what she encounters.
I loved that Trey immediately takes charge of the rescue. Being back on the ranch seems to give him a boost of confidence, and his own experiences give him some insight into Rebecca just from her photograph. His quick action gets him to Rebecca before it's too late, and they hole up in a cabin to wait out the storm. Trey's attempts to behave like a gentleman while he works to warm Rebecca inside the sleeping bag were so sweet. Rebecca is innocent but much stronger than she believes. She shares her life story with Trey, who is impressed by her willingness to take a chance on her future. I loved their connection. Trey's care of Rebecca gives him a purpose and a focus that keeps his issues mostly in the background. Rebecca feels a sense of safety with Trey that gives her the courage to explore her own feelings and desires.
After their rescue, which has some of its own challenges, Trey welcomes Rebecca back to the ranch. He invites her to stay as long as she wants to. Over the next few days, they explore that which is growing between them. I ached for Trey, whose self-worth took a beating every time he had a problem with his memory. He was falling so hard for Rebecca but believed that there was no way for them to be together. At the same time, Rebecca fell in love with Trey, but because of her mother's example is suspicious of the truth of her feelings. Of course, Rebecca's mother eventually catches up with her, but things don't go quite as she expected. I loved that scene, with her going up against Rebecca and Trey together. Trey still believes that he doesn't deserve Rebecca, but he's losing the battle thanks to her love and understanding. I loved his big moment at the end, with his "you are imprinted on my heart." I adored how Rebecca took over the planning of their honeymoon and what she came up with.
I loved the realism of Trey's issues with his memory. His fears and frustrations are understandable and believable. I hurt for him every time he forgot something or said something unexpected, and how it made him feel. It was great to see that there was no miracle fix at the end of the book, but the honest truth that there would always be challenges. There was also hope given for some improvement. I hope they make appearances in later books so I can see how they are doing.