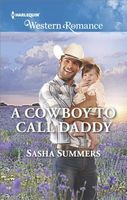 Series:
Boones of Texas
(Book 4)
A DISTRACTION HE DOESN'T NEED!
Archer Boone's whole life revolves around his work at his family's ranch and horse refuge. Animals are just so much less complicated than people. But he needs to get the refuge's financial paperwork in order so he can secure his funding. When Eden Caraway arrives to work on his books, Archer can't afford to be distracted by the beautiful single mom and her two adorable daughters.
Eden Caraway is really Eden Monroe, and she is determined to earn her father's respect. So if he wants to pull funding from Archer Boone's horse refuge, she'll make it happen. But Eden is falling for Archer, and she dreams of staying at Boone Ranch. How can she reveal her real reason for being there and risk losing her heart?
Good book. Archer runs the horse refuge on his family's ranch. He much prefers dealing with the animals rather than people. He is in the middle of trying to get the refuge's financial paperwork in order before one of their donor's board meetings so that he can secure more funding. It isn't going so well, as his surly attitude has driven away every temp accountant who has tried.
Eden is on her way to the ranch to check the paperwork. Her father is one of the board members and is determined to pull the funding from the refuge. She's been trying to earn his respect for years, and maybe finding the information he wants will do it. But when she arrives at the ranch, Archer mistakes her for the next temp and puts her to work right away, and she doesn't enlighten him.
I liked the development of their relationship. There are sparks between them from the start, but both try to resist. Archer because she's an employee and because he just doesn't do relationships. Eden because she is lying to him about who she is and has no intention of staying around. But Eden finds herself admiring the work that Archer is doing and more and more reluctant to go along with her father's plans. Add in the softer side of him that she sees when he is around her daughters and she knows that she is in trouble. Archer discovers that Eden and her girls have worked their way past the walls he has around his heart. He doesn't quite know what to do with the feelings he has for them. It was sweet to see him with little Ivy. I especially enjoyed the scene at the vet hospital with the kitten. I liked the way that Archer's appreciation of Eden's abilities with the paperwork and her girls gives her a boost of confidence she never gets from her hypercritical father and ex-husband. The more they are together, the more Archer wants Eden to stay around. Eden wants to stay also, but her guilt over her deception is tearing her up. She knows she has to come clean before they can move forward, but she's afraid of his reaction. I ached for her when she did and it was as bad as she expected. Luckily for Archer, his dad had some very good advice for him. I liked his big moment at the end, as a bit of his vulnerability showed through the gruff exterior.
As for the funding of the refuge, Eden discovered that there was much more going on there than she had expected. She didn't understand her father's attitude, especially considering her late mother's support of the refuge. Some conversations with Archer's father, and the chance to read her mom's letters to Archer's mom, brought about some new insight. There was an unexpected appearance by Eden's ex, who tried to apply his own pressure. There was a surprising twist at the end, which answered many of Eden's questions. It also gave her the ammunition she needed to present to the board in Archer's favor. I loved seeing her stand up to her father, and disliked him even more by the end of the book.
I also enjoyed the secondary story involving Eden's nanny and Archer's father. Teddy is a great guy and I loved his support of Eden, as well as the close relationship he has with his family. It was sweet to see him with the little girls, and finding a second chance at love.