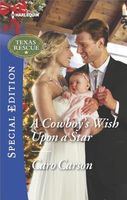 Series:
Texas Rescue
(Book 5)
From Hollywood…
A cattle ranch is the perfect place for movie star Sophia Jackson to escape her scandalous past and the paparazzi hot on her trail. But foreman Travis Chalmers makes it clear who's running the ranch. When their constant clashing ignites unexpected attraction, Sophia takes on her greatest acting role: pretending she isn't falling for the sexy, domineering cowboy.
…to Motherhood
Once Travis sweeps her into his arms at her sister's wedding, she knows the feeling's mutual. But a precious secret followed Sophia to Texas. And now a Hollywood hurricane is about to blow through Travis's peaceful Texas town. Is the mother-to-be ready to fight for her future and see her most passionate Christmas wish granted -- she and Travis vowing to love each other forever?
Good book. Sophia is a movie star whose recent bad decisions have put her in the paparazzi's crosshairs. Her sister and future brother-in-law have arranged for her to hide out on a local ranch. She's not thrilled with the idea, but she doesn't have any other options. Travis is the foreman of the ranch and not very happy to have to deal with the diva, but he'll do what he has to.
The sparks flew between these two from the moment they met. At first, they were very confrontational. Sophia behaves like a spoiled brat, expecting Travis to do whatever she wants him to do. Travis isn't having any of it and lets her know that he has more important things to do. But underneath the antagonism is a simmering attraction that neither wants to admit.
I liked the development of their relationship. Travis is practical, level-headed and unexpectedly fascinated by Sophia. It was fun to see him fight his fascination as thoughts of her invaded his mind at all hours of the day and night. I really enjoyed how he calmly stood up against her brattiness and began to see the vulnerability that her attitude hid. There are some really sweet scenes as he begins to break down the walls she has built around her heart. Sophia was hard to like at the beginning, but it soon became obvious that she used that attitude to hide her fears. All she wanted was to be loved, and with the betrayal of her ex and her sister getting married, she felt very alone. I also ached for her because her ability to trust those around her had been destroyed by those who just wanted to use her. As she settles into life on the ranch, her softer side emerges. I loved the scene with the kitten and her determination to take care of it. She is just as attracted to Travis as he is to her. There are some funny scenes as she tries to use her acting skills to come on to him, but he sees through them. As they really get to know each other, the heat between continues to build. This just adds to the connection between them. I loved the changes in Sophia brought about by Travis's care for her. But she is hiding the secret of her pregnancy from him, and it hits him hard when it comes out. I ached for them both as Travis worked his way through his feelings of betrayal. But his realization of his love comes just in time to deal with her obnoxious ex. I loved that scene, as well as its aftermath. The epilogue was fantastic, as Travis's calm continues to be the perfect balance for Sophia's occasional freak outs.