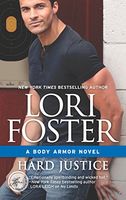 Series:
Body Armor
(Book 2)
Playing it safe has never felt so dangerous…
Justice Wallington knows how to harness his strength and intimidating size -- skills he put to good use first in the MMA cage and now as a bodyguard at the Body Armor agency. But no opponent has ever left him feeling as off balance as his new client, heiress Fallon Wade. Far from a spoiled princess, she's sweet and intriguingly innocent. It's a risk-free assignment until he's required to fake a relationship with her in order to blend in.
Sheltered from the world after a family tragedy, Fallon longs to experience life -- going to bars, dancing, talking to strangers. Not easy with a huge, lethal-looking bodyguard shadowing her every move. Justice seems like her polar opposite, but pretending to be a couple stirs undeniable heat. And when danger strikes again, it's not just her safety in jeopardy, but a passion that's real, raw and absolutely against the rules…
Very good book. Justice is a former fighter who has followed his friend Leese (Under Pressure) to the Body Armor Agency as a bodyguard. His latest job is to protect heiress Fallon Wade whenever she goes out. It seems like it will be a pretty low-key job, without any real stress or danger. He expects to find a woman who is spoiled rotten and expects people to jump when she snaps her fingers. He's surprised to find the exact opposite. Fallon is sweet, innocent and ready to expand her world. She's not all that happy to have a bodyguard, but Justice is different than any other bodyguard she has had.
I loved Justice and Fallon. Justice is a bit more rough around the edges than Leese is, but is just as wonderful. He's honorable, strong, outwardly intimidating but with an unexpectedly soft center. I loved his first encounter with Fallon's parents. He's a little intimidated by their obvious wealth, but he doesn't let it show. He simply behaves the way he always does. He is quite a contrast at times, big, tough, with a death-glare that sends people scurrying out of his way, then talking about planting the flowers that his ma and granny gave him and dropping everything to help them when they need it. Fallon is twenty-four years old and tired of being kept in a gilded cage. Her parents had always been protective, but after her sister's death, they really went overboard. She wants a chance to live her life and experience the same things other do. She's a bit naïve and has some issues that cause her to feel unattractive.
I loved the relationship that developed between Fallon and Justice. There are sparks from the moment they met, though Justice tries desperately to resist them. She's a client; she's rich, she's innocent - all good reasons to keep his hands off. But it doesn't take him long to fall and fall hard for her. I loved seeing him try to balance ways to give her the experiences she wanted while at the same time keeping her safe. There were some really sweet scenes of their excursions as they get to know each other. Fallon is fascinated by Justice. His strength and size are a real turn-on for her, but so are the kindness and humor she sees in him. Fallon doesn't believe in her own appeal to a man like Justice, thanks to events in her past. I loved seeing them realize that there is more between them than bodyguard and client and that Justice isn't afraid to jump in with both feet. I loved his forthright discussion with her parents and Fallon's reaction. It was great to see Fallon coming out of her shell as Justice introduced her to his world. Justice goes through some changes of his own as his love for Fallon makes him look at his life differently. I loved the ending with Justice and Fallon and her parents. Her new found confidence was a testament to his love and support.
The suspense of the story was really good. Though there didn't seem to be any real threat when Justice first started with Fallon, some strange things began to happen. There were some uncomfortable encounters with her ex, vandalism, and a possible physical attack on Fallon. There are several possibilities of who is behind it, and the question of why. Clues lead this way and that, keeping me guessing until the end. There is some great support and involvement by Justice's friends and fellow fighters from the Ultimate series, especially when it came to the final confrontation. That was really intense, and I loved how it all came together.
The secondary characters were all terrific. Fallon's parents grated on my nerves at first, until more of Fallon's story was revealed and their attitudes were more understandable. Her mom really grew on me the further into the book I got. Justice's mom and granny were fantastic. I especially loved his granny and her feisty attitude. The fighter, Tom, had me going back and forth as to whether I liked him or not. He reminds me of Justice as he was in the previous series, so there is hope for him yet. Maybe he will feature in the next series. We saw a little more of Miles, who will be in the next book. There also seems to be some connection between Brand, another fighter, and Sahara, the agency owner. I'm really looking forward to his book.