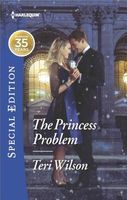 Series:
Drake Diamonds
(Book 2)
A Diamond in the Rough
Always-proper princess Aurélie Marchand never flouts the wishes of her father. But when she's set to marry a man she doesn't love, Aurélie finally escapes -- to glittering New York City. And she's got a surprise for her hosts at Drake Diamonds: a magnificent secret treasure that can guide their fortunes forever. But it's the dour but dashing Dalton Drake who is the true surprise…
Despite a store built on finding true love, after one tragic try at marriage Dalton's wed only to his family's business. When the feisty princess appears on his doorstep, though, she immediately tries his patience…and charms her way into his fiercely padlocked heart. But can the secret-filled runaway royal become his forever bride?
Good book. Aurélie is a princess on the run. She desperately wants a chance to live a little before undergoing an arranged marriage to a much older man. She disguised herself as a courier and accompanied a collection of jeweled eggs to New York, where they will go display at Drake Diamonds. She also brought another treasure to use as the incentive to gain Dalton's cooperation. Dalton's world has revolved around Drake Diamonds for most of his life, even affecting his one attempt at marriage. Aurélie's arrival throws his well-ordered life into complete turmoil.
I really liked Aurélie. She suffered a blow to her outlook on life when she learned the truth about her parents' so-called fairy tale marriage. I liked how she took matters into her own hands and seized the chance to do what she wanted while she still could. I thought her methods were creative. I really liked when she came face-to-face with Dalton and stated her requirements, and didn't back down when he tried to intimidate her. It was sweet to see her enjoyment of the little things like eating a hot dog and shopping for vintage clothes.
I liked Dalton, too. He's a workaholic who has always put the company first, even though it cost him his fiancée, but he unbent enough in the first book,
His Ballerina Bride
, to help Artem win Ophelia. He's surprised when he is confronted by Aurélie, and hesitant to put his arrangement with her father at risk. It was fun to see him try to keep her under control and failing miserably.
I enjoyed the development of their romance. There are sparks flying between them from the start, but both have good reason to resist. Aurélie because she knows she will have to go home and marry, and Dalton because he swore never to put another woman at risk because of his behavior. I loved how helping Aurélie with her wishes began to pull Dalton out of the shell he had built around himself. He stunned everyone around him by actually ditching work to be with her. Aurélie was able to forget what was waiting for her when she was with him, and discovered that she was happier than she had ever been. The attraction continued to build until neither could resist it any longer. I loved how Aurélie seized her chance with such enthusiasm. The connection scared Dalton a bit and he started to pull away. A family crisis intensified his need to avoid more loss in his life and he continued to push. I loved that Aurélie stepped up to help in a different crisis, which brought the two of them back together in an intense encounter. But an unexpected arrival the next morning brought everything crashing down and sending Aurélie back home. I ached for Dalton and his misery at her absence and loved seeing his sister point out the obvious. I loved Dalton's solution once he made his decision. There was still an expected twist waiting for him before he could carry out his plans and I loved what it was. The ending was great and I loved how Aurélie proved to have more courage than she expected. I'd love to see more of her and her new future.