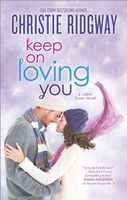 Series:
Cabin Fever
(Book 4)
Mackenzie Walker has everything a single girl needs in her California mountain hometown. Family, friends, a thriving business…and memories of Zan Elliott, whose touch -- and betrayal -- she's never forgotten. Now, ten years after he left town, Zan returns to manage his late grandfather's estate…and flip Mac's life upside down.
Documentary filmmaking has taken Zan all over the globe, yet nowhere was far enough away to make him forget Mac. Seeing her reignites their incredible chemistry. Mac's trust won't be easily won, especially when Zan's inheritance jeopardizes her family's hard-earned dreams. But every moment together is challenging Zan to stop living life through a lens and dare to let his guard down for a chance at forever…
A terrific conclusion to the series. Zan has been a background character in all the books, the friend who left town for parts unknown. The only contact has been the occasional postcard sent to Mac, with no message other than the letter Z. After ten years away, Zan has returned to settle his grandfather's estate.
When Zan was a boy, he lost his entire family in an airplane crash. He was sent to live with his grandfather, where he met the Walkers. The lonely boy became a "brother of the heart" to them and as a teen much more to Mac. For two years they were a couple, and then Zan abruptly left town, taking Mac's heart with him.
Mac has spent the last ten years taking care of her family, building her business, and trying to forget Zan. She's very practical, a bit cynical, and very protective of her family. She's happy that her siblings have found love, but a bit sad that she doesn't have someone of her own. Zan's return throws her into a tailspin, as she discovers that the chemistry they had together in the past is stronger than ever. She is determined to keep her distance from him and not risk another heartbreak when he leaves again.
Zan is surprised by how strong his attraction to Mac still is. He would love to pick up where they left off, enjoying the time they have together before he leaves again. He's a bit confused by her chilly attitude.
I really enjoyed the reigniting of their relationship. Both Mac and Zan have been unable to forget each other over the last ten years, but each has some major hurdles to overcome to make a future possible. Mac was devastated by Zan's departure all those years ago and has some huge trust issues now. Zan believes that love always ends in loss because of what happened to him. He pushes people away rather than take a chance on loving and losing. As they work together on Zan's house, the sparks between them burn hotter. Zan wants to give in to them, while Mac is convinced it would be a bad idea. Her brief attempt at believing she can have a fling with him without risking her heart shows her just the opposite, and she pulls away again. Zan wants Mac with every fiber of his being, but he's afraid to believe that it can last. In spite of the fears that each of them has, they can't stay away from each other.
I ached so much for Zan who has spent years running from the ghosts in his heart. His memories of his times with the Walkers are some of the best he has but he's afraid to believe. When he returns to town it takes him a while to adjust to all the changes he finds. He's oblivious to the hurt he's caused by his long absence and lack of communication. It was really sweet to see the way that Shay and Poppy sucked him right back into their lives. The conversation between Zan and Brett, as Brett makes his point that Zan is family brought me to tears. The whole deal with the land made me hurt for him, as he tried to keep his promise to Mac and deal with his guilt at the same time. I wasn't at all surprised at his solution. It was also great to see how many of the people in town were happy to see Zan, and that their pleasure and the memories they shared all began to change the way he looked at the town.
I loved how Mac confronted him at the end, using the postcards to show him how she felt. That scene was really emotional as they started to lay the past to rest. But the best was yet to come at Poppy's wedding. I loved how a chance encounter with an old woman finally showed Zan what he had been doing to himself all those years. His big moment at the end was sweet, romantic and just the type of grand gesture that Mac needed.
I loved the epilogue and the glimpse of the whole family five years later.