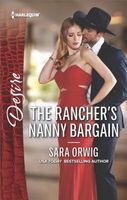 Series:
Callahan's Clan
(Book 2)
This nanny is strictly off limits!
Rancher Cade Callahan is desperate. As guardian to his brother's baby, he's completely clueless, and he needs a nanny quick! Hiring his best friend's very qualified sister seems like a no-brainer. But Erin Dorsey isn't the scrawny kid he remembers, and the ravishing redhead has him reeling.
Cade has no use for marriage and likes to play the field. Erin is vulnerable because of a recent heartbreak, so Cade promised her brother to keep his hands off. But resisting the allure of his stunning nanny is easier said than done…
Good book. Cade lost his younger brother and sister-in-law in a crash, leaving him as guardian for his niece. But Cade has no idea how to care for little Amelia and is terrified of screwing it up. After all, he didn't exactly have the best examples for parents while growing up. After several unsuccessful interviews to find a nanny, Cade accepts his best friend's suggestion of his younger sister for the job. Luke also warns Cade to keep his hands off Erin, who is suffering from enough heartbreak.
Erin is getting ready to start her post-graduate work, but has taken a semester off to earn the money she needs. She doesn't plan to give up the job she has until Cade makes her an offer she just can't refuse. Luke has warned her off any involvement with Cade, who is a known playboy. Still reeling from her own heartbreak, she isn't too worried, until she meets him.
The chemistry between Cade and Erin is intense from the moment they meet. They try hard to resist it, but it is a losing battle. Erin may still be recovering from her heartbreak, but she hasn't given up on the hope for a husband and family of her own someday. She also knows that Cade can never be that man. Cade has sworn off the idea of marriage for himself. Having witnessed his parents' terrible marriage and his father's inability to commit, he figures that he's far safer not taking the risk of hurting himself or someone else. Becoming father to little Amelia creates a huge change in his life. He's determined to be a better father than his own was, and Erin is the path to that goal - as long as he doesn't screw it up.
I loved seeing the development of their relationship. It doesn't take long to acknowledge their mutual attraction, but they start out successfully resisting it. Cade reminds himself of his long friendship with her brother and that he doesn't want to lose that friendship. He also knows of her vulnerability and doesn't want to add to her hurt. Erin reminds herself that he doesn't want marriage and she does. There are some terrific scenes of the two of them fighting the attraction that continues to grow as they spend time together with baby Amelia. But it's too strong to resist, and pretty soon they give in. Erin knows from the start that she's in danger of losing her heart to both Cade and Amelia, but she takes the chance anyway. Cade spends a long time trying to convince himself that the strength of their connection doesn't mean anything. I loved seeing Erin work on Cade's confidence in being a father, and also that he doesn't have to cut himself off from the prospect of marriage in his future. But when Erin's time is up, she knows she has to cut ties completely to have even a small chance of getting over her feelings. Meanwhile, Cade has to face the reality of Erin's departure and his feelings for her. Cade's big moment at the end was great, including some interference from Luke.
I really liked seeing the changes that Cade went through. His fears about taking care of Amelia were real, as was his desire to overcome them. His caution at the beginning was sweet and kind of amusing, considering how confident he was in everything else. I loved seeing him become more confident, and some of his scenes with Amelia were quite heartmelting.