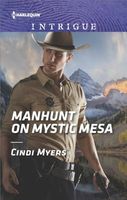 Series:
Ranger Brigade: Family Secrets
(Book 3)
A rule-following ranger finds himself on the hunt for a killer -- and falling for a woman who should be off-limits…
On the hunt for a serial killer, ranger Ryan Spencer can't afford any distraction. But Jana Lassiter, sister to one of the missing women, won't let Ryan investigate Mystic Mesa alone. Even though the seasoned officer has always been by the book, something tells him it wouldn't be so bad to break a few rules for Jana.
When Jana's life is suddenly jeopardized, the lawman is forced to face his darkest fears. He's allowed desire to overshadow duty. Now he has to rein in his emotions to save Jana from becoming the next victim. Because losing this woman he's inexplicably fallen for will destroy this warrior forever.
Good book. Questions continue about just what a man calling himself "The Prophet" is up to. Three young women are missing, each of whom may have had some connection to him. The sister of one of those girls, Jana Lassiter, has come to town to find out what has happened to her sister. She insists on following ranger Ryan Spencer, even though he tries to tell her it's against the rules. But something about Jana has Ryan reconsidering his position, and when she is attacked keeping her safe is more important than the rules.
There are sparks between Ryan and Jana from the beginning. Ryan finds her quite distracting, but also admires her determination. Jana is equally attracted to Ryan, and better yet, comes to trust him. Ryan's protectiveness really comes out when she is targeted, though he also has to balance it with her need for independence. There were some really good scenes of the push and pull between them as they learned to compromise over their needs. I also really liked Ryan's support of Jana when her fears for her sister would overwhelm her. He never tried to sugar coat things, but he wasn't unnecessarily harsh either. I liked seeing Jana fall for Ryan's kindness and sensitivity. I loved seeing them give in to their attraction and how it brought them even closer. I liked their big moment at the end, as they confessed their feelings and that they wanted to see where it would lead.
The mystery of the three missing young women was really well done. The Rangers' first suspect is the Prophet because of the way that young women are so drawn to him. Through the previous books and into this one, there's still the feel that the man is up to something unsavory. There is also the head of the archaeological dig taking place at Mystic Mesa. He was the last one to see Jenny, and was known to be carrying on with her, even though he is married. The question is, is there any connection with the other two missing girls? Then there is Eric, the newspaper reporter who claims to be engaged to Jenny. He is brash, cocky, and insists that he is just the person to break the case wide open. I ached for the members of the Brigade, each time another body was found and the clues seemed to go nowhere. I started to get a feeling for who was behind it, but it still came as a bit of a shock when the final confrontation came. I loved that Jana kept her head and refused to give in to fear. My heart was in my throat as I waited for Ryan to connect the dots and get to her in time.