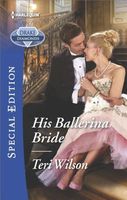 Series:
Drake Diamonds
(Book 1)
The Ultimate Pas de Deux
A Page Six Exclusive Report
Debonair Artem Drake has had tongues wagging all over New York since he became surprise CEO of Drake Diamonds. This playboy hopes to bring new life to the storied old business before those rumored bad investments sink the family ship. He's even plucked an ambitious salesgirl out of the shadows to become the store's new star designer. But Ophelia Rose isn't the ingenue she seems. The swanlike beauty's hiding a past that glimmers as bright as a Drake diamond -- she once graced the stage as a professional ballerina…until she was forced to take her final curtsy and hide from the limelight. Now can Artem bring her back to center stage? Or will their glittering future together wither under the secrets of the past?
Fantastic book. Ophelia is a former ballerina who lost her career thanks to a devastating medical diagnosis. Now she works on the sales floor of Drake Diamonds and dreams of becoming one of their jewelry designers. A chance encounter with Artem Drake, CEO of the company, gives her the opportunity to show her designs. Artem inherited the position of CEO, but he doesn't want it. He's never felt part of the tradition. On his way to his brother's office to submit his resignation, he sees Ophelia and is immediately drawn to her. In the course of that meeting, Artem offers to look at her designs.
The chemistry between Ophelia and Artem is intense from the very beginning. Every encounter sees the sparks flying between them. Ophelia is determined to resist because of her fears about her future. Artem is attracted so much that he can't get her off his mind. I loved the night at the ballet, meant to be publicity for the company and how it turned out to be so much more. I ached for Ophelia and her sense of loss at not being able to dance, and wept at her reaction to the shoes. I loved how she seized on the chance to take one night for herself to make memories to last her in her self-imposed exile. What she and Artem experienced was incredible, both physical and emotional. But the dream came to an end the next morning, with a public exposure of her past. I ached for them both as Ophelia dealt with the consequences of the stress and Artem with the effects the news of her illness had on his feelings. I loved the way that he stood up for her against his brother and tried to protect her. The ending was awesome with Artem's determination to do whatever he had to in order to win her, and Ophelia finally willing to believe she could have a life worth living. Artem's big moment was awesome and the perfect way to bring the story full circle.
There was so much I loved about this book. At the top of the list is the realism of Ophelia and her illness. The devastation of the major changes in her life and her fears for her future are what so many experience. I loved seeing her making the best of her new reality and trying to stay as positive as she can. I ached for her and the effect her former fiancé's rejection had on her. Artem also had his demons to overcome. The stigma of his birth and his fear of being like his father had a huge impact on his life. His relationship with his brother was strained until they found a way past the issues that kept them apart. I also loved how the Drake Diamond had a connection to both Artem and Ophelia, and that Ophelia finds a way to show Artem that it is just as important to him as it is to her. I wasn't surprised by Artem's gift to Ophelia, but it was so very sweet and romantic.