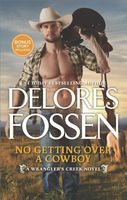 Series:
Wrangler's Creek
(Book 2)
The golden cowboy of Wrangler's Creek returns home to Texas to discover some old flames never fizzle…
There are plenty of things Garrett Granger hadn't counted on losing -- his child to miscarriage, his wife to another man and the family business thanks to a crooked CFO. He also hadn't counted on moving back to the family ranch, where he's met by another surprise -- former flame Nicky Marlow, who is renting his grandmother's old house.
Nicky's been rebuilding her shattered life since her husband's death two years ago. But Garrett's timely arrival in Wrangler's Creek doesn't automatically make him the missing piece of the puzzle. Even if he does seem to adore her two-year-old daughter… Even if seeing him again stirs up old feelings Nicky would gladly keep buried, forcing her to wonder if moving forward has to mean leaving everything behind…
Good second chance romance. Garrett has come home to the family ranch to heal. He's still grieving for his daughter, who was stillborn and dealing with the fallout of his divorce. There's nothing quite so embarrassing as having your wife's cheating activities becoming a YouTube sensation. Just as he's settling into some serious ranch work, he finds an old flame has invaded the very section he has plans for.
Nicky is rebuilding her life after her husband's death. Her idea is to start a retreat for widows who are trying to deal with their losses, so she has rented an old house on the Granger land. This gives her a purpose for her life and a place to raise her daughter. It also gives her the chance to deal with some issues from her past.
From the moment they see each other again, there are sparks flying between Garrett and Nicky. They are sparks that neither one is happy about. Garrett still feels some guilt about the way he treated Nicky back then, and Nicky doesn't want to risk heartbreak again. Garrett is determined to get the women off his land, but Nicky digs in her heels. Things get more interesting when a skeleton is found in a closet, and the house becomes a crime scene. A temporary move of the women to the main ranch house throws Nicky and Garrett together, and the flames start to burn brighter. But Nicky has some secrets that could derail anything building between them.
I ached for Nicky, who had overcome so much to get where she is. Her home life had been miserable, with an abusive drunk for a father. Her short time as Garrett's girlfriend had been the only happiness she had, and she was heartbroken when he dumped her soon after their one night together. Her marriage had been bad, with a cheating husband who had numerous affairs. I loved seeing her happiness with her daughter and her satisfaction in being able to help the other widows.
I ached a bit for Garrett too. He's tired of being the object of pity because of the end of his marriage and just wants to be able to move on from it. Harder to deal with is the grief he still feels over the loss of his daughter. His pain was clear when he first saw Nicky's daughter Kaylee, who is the same age his daughter would have been. I loved seeing how being around her helped ease his grief and that he grew to love Kaylee for herself. I loved how he saw some of Nicky's vulnerabilities and was sensitive to them as some of her secrets were revealed.
There's plenty of chaos, fun, and mystery as the widows settle into the house and Garrett and Nicky try to deal with it all while fighting their attraction. Each of the widows, and one divorcee, have their own stories and quirks. From Garrett's ex, who claims to be there for counseling over the loss of her baby but is obviously there to try to get Garrett back, to Loretta, the old widow who finds the skeleton, there is never a dull moment. The three sisters are especially amusing with their P-word phobia, and G rated cussing. Garrett's mother, Belle, who gave the lease to Nicky, is obviously trying her hand a matchmaking. There are twists and turns in the search for the identity of the skeleton in the closet, with a surprise revelation at the end of the quest.

There is also a darker mystery involving Nicky and whoever is sending her anonymous roses. Nicky knows who it is and is obviously afraid of what it means. As their relationship progresses, she knows she needs to tell Garrett the truth, but she's afraid of his reaction. When that part of her past arrives in Wrangler's Creek, ready to make trouble, her delay creates some extra complications. I loved how Garrett came through in the end, and all was resolved. I liked seeing both Garrett and Nicky finally able to admit their feelings for each other. The last few lines of the book really summed up their relationship well. I'm really looking forward to Roman's book.