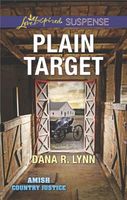 Series:
Amish Country Justice
(Book 1)
SANCTUARY IN AMISH COUNTRY
Horse trainer Jess McGrath only wants to clear her disgraced brother's name, but enemies keep coming out of the woodwork and danger only gets closer. Jess soon learns that no place is safe -- and no one can be trusted…except for the last white knight she'd ever expect to ride to her rescue. Paramedic Seth Travis was the boy behind her high school humiliation, but he's also the man keeping her alive. When they find sanctuary in the Amish community, can they uncover answers in time to stop a killer -- and resolve their past in time to build a future together?
Fantastic book that had me hooked from the first page. Jess is a horse trainer, fighting to keep her business afloat as she attempts to clear her brother's name. She knows that he is not guilty of the things he was accused of before his apparent suicide. The story starts with a fire that breaks out in her brother's office in the stables, endangering the horses. Jess is injured while trying to put out the fire, and is treated by paramedic Seth. Jess and Seth have a history together, and it isn't a pleasant one. They knew each other in high school, where he did something that resulted in her humiliation and decision to transfer schools. Seth still feels guilty over his actions and is determined to apologize and make amends.
The fire at her stable is the final straw that makes Jess realize that the things that have been happening to her are not accidents. Seth is determined to stick with her and protect her as the attacks begin to escalate. Jess is reluctant to trust Seth at the beginning because of their past history, but soon realizes that he has changed for the better.
I really liked both Jess and Seth. Jess has even more challenges than her problems with the stables. She is deaf, and without her hearing aids she is at an extreme disadvantage. She is independent, resourceful, and relies on her faith to keep her from despair. Seth has a pretty well-developed guilt complex over the things he did when he was younger. His work as a paramedic is one of his ways to redeem himself. He has lost his faith over the years, thanks to the things he has seen and done. I liked his determination to be a better man.
I liked the development of the relationship between Jess and Seth. Jess is first wary of him, but quickly realizes that she can trust him. Throughout the story, they grow closer as they have to depend on each other for their safety. Jess begins to fall for the new and improved Seth. She worries about him and his belief that he doesn't deserve forgiveness for his past actions. I liked the gentle way that she showed him that he was worth loving. I loved Seth's protectiveness toward Jess, as he worked to keep her safe. He was also amazingly sensitive to her moods and fears, and always seemed to know just the right thing to say or do. I loved how he had learned sign language because of her and that her confidence in him helped him to heal. His big moment with her at the end was really sweet. The epilogue was great with an awesome surprise for Seth.
The suspense of the book was fantastic. It was non-stop action from the start as Jess and Seth try to stay ahead of those that are after her. There are so many twists and turns to the story, with multiple possibilities as the killer, that I could not quite decide who was guilty. Just when I would decide on someone, something would happen to change my mind. An unexpected twist at the end threw all my conclusions out the window. The final confrontation was exciting and heart-pounding as Jess's life is in danger and Seth races to the rescue.

*copy received in exchange for honest review