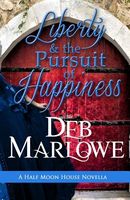 Series:
Half Moon House
(Book 1.5)
It's warring nations, dueling philosophies and the battle of the sexes as American-born Miss Liberty Baylis takes on Simon Lansing, Viscount Brodham, in the fight for her friend's happiness. Brodham wants only to retire to the peace and quiet of his country estate, but he'll take on the cheeky American chit if that's what it takes to keep his nephew safe and happy. The war is on . . . but when banter and flirtation become weapons and kisses disrupt strategies, will Brodham and Liberty ever wish for the battles to end?
Good quick read. Liberty is an American heiress visiting London with her parents. Accustomed to more activity and freedom, she is bored and frustrated by the lack of both. A series of advertisements in the newspaper intrigues her and leads her to a new friend. Felicity is a young lady who is trying to find the gentleman who came to her rescue a few weeks earlier. Liberty decides that helping her new friend is a perfect project for her. She runs into some trouble when the gentleman's uncle tries to keep the two apart.
Lord Brodham has spent a good deal of his adult life rescuing other people from their scandals or trying to prevent them in the first place. He's tired of seeing the worst of people and ready for some peace and quiet on his estate. But first, he has to untangle his nephew, Peter, from potential disaster.
There are sparks between Brodham and Liberty from the moment they meet. She is determined to do everything possible to help the young couple, while Brodham seems determined to keep them apart. They carry on a lighthearted battle, each trying to make their point. Underneath the battle is a simmering attraction to each other. Brodham is especially wary, as Liberty is definitely not the quiet and safe kind of woman he had been envisioning his life. Liberty had certainly not been looking for a stuffy Englishman. Their encounters are mostly fun and flirty as they try to top each other in their efforts. When one encounter turns more emotional than Brodham is comfortable with, he withdraws back to his safe and quiet life. He discovers that quiet and comfortable isn't all it's cracked up to be, and wonders if it's too late to make Liberty part of his life. I loved the ending, as Peter and Felicity return the favor and bring Brodham and Liberty back together. I loved seeing his walls come tumbling down as he opens his heart completely to Liberty.