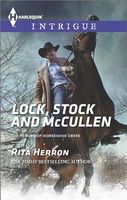 Series:
Heroes of Horseshoe Creek
(Book 1)
Sherriff Maddox McCullen cradled Rose Worthington, every protective fiber of his being firing as she shuddered against him. She told him how she had been brutally attacked and had killed the man -- her fiancé! -- in self-defense. But when Maddox investigates the crime scene, he finds nothing. No bullet casing, no blood, no body.
The deeper Maddox probes, the more questions arise, revealing a mysterious past that shatters all Rose has ever known. Caught in the crosshairs of escalating danger -- and his powerful desire for Rose -- Maddox vows to protect her. He'll risk his life to find a desperate enemy who will stop at nothing to keep the past buried.
Good book with plenty of excitement throughout the book. Rose is a local shop owner who is eloping with her fiancé. She's excited to be starting her own family with a man she loves. Her fiancé has suggested a night together before the wedding, and takes her to an isolated cabin, where she overhears him talking to someone about killing her and leaving the body. Terrified, she fights him off, using his own gun to shoot and kill him. She escapes back to town and calls the sheriff. But when they go to investigate, there's no body, no blood, and nothing to show that anyone had been there.
Maddox has been attracted to Rose for a long time, but she belonged to someone else. Now she's in danger and he is determined to keep her safe. The problem he has is keeping his attraction under control and his mind on his duty. I loved seeing how gentle and kind he was with her every time that something new would happen to them. All Rose knows is that she feels safe when she is with Maddox. As the truth comes out about her fiancé, she realizes that the man she thought she loved didn't exist. Instead she discovers in Maddox an honorable, kind and sexy man who shows her what a man should be. I loved seeing how they connected and the attraction grew between them.
Both of them have led rather lonely lives. Maddox on the ranch with his father and having two brothers that are estranged. His father is dying, which is tearing him apart. He's also trying to get his brothers back to the ranch to mend fences with their father before he dies. Rose's life has been a lonely one also. She was raised by two parents who weren't loving, moved frequently, and discouraged ties with anyone. When she became an adult, she moved out on her own, craving a life with roots, separating herself from her parents. I loved seeing the comfort they brought to each other. I loved how Rose worried about Maddox and his obvious stress about his dad and brothers. There was such a sweet scene at the end where she just wanted to be there for him, and his obvious need for her presence was heartwrenching. I also loved how Maddox was able to be the one that Rose was able to lean on and trust. His sensitivity to her pain was pretty sweet. I loved his big moment at the end, as he took a chance on sharing his feelings.
The suspense was quite a wild ride. The more that Maddox and Rose investigate, the deeper the mystery gets. Someone seems to be determined to kill Rose, and he doesn't care who he takes with her. As Maddox and Rose uncover years of deceit, her past becomes more puzzling. I ached for Rose as she learned each new thing. With every clue seemed to come a new attack, each more brutal than the next. Only sheer determination got them out of each jam, from fires to bombings to near drownings. The final confrontation was a nail-biter, with a very satisfying ending.