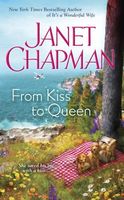 Jane Abbott knows that she's nobody special, so instead of looking for romance she's hunting partridge in the Maine woods when a plane crashes into a nearby pond. Diving in to save the pilot, Jane instinctively gives him air by way of a lifesaving kiss, and leads him to safety through a barrage of gunfire.
The handsome stranger returns the favor by kidnapping her.
Clearly no ordinary man, and insisting Jane's life is in danger, Mark spirits his stubborn guardian angel to an aircraft carrier in the Atlantic Ocean. Only then does she discover that the mysterious Mark is actually Prince Markov Lakeland.
Soon to be crowned king of the young country of Shelkova, can Mark persuade Jane that she has what it takes to be his queen?
Fantastic book. Classic Janet Chapman, with a strong female and very alpha male, who strike sparks off each other from the beginning. I laughed out loud so many times during this book, as Jane and Mark would go head to head, each trying to get their own way. Jane is hunting in the woods when she witnesses a plane being shot out of the sky. It lands in the water, and she immediately dives in to save the pilot. She has to give him air a couple times via a lifesaving kiss before she can get him free of the wreckage. She leads him through the woods to safety, evading their pursuers along the way. Jane, who is quite confident in the woods that are her home, has no trouble bossing Mark around. Mark, who is obviously more accustomed to bossing rather than being bossed, has no choice but to allow it while he recovers from the crash, but he obviously doesn't like it. By the time they have reached safety, he has recovered and refuses to leave his "guardian angel" behind, at the mercy of those who are after him. When she resists, he simply kidnaps her.
I loved both Jane and Mark. Jane is an intriguing mix of confidence and insecurity. In the woods, and working as a guide, she is confident in her abilities. But outside of that, she sees herself as less than a nobody. She is an orphan, raised first by nuns, then by an older couple who weren't especially loving. She limps from a childhood injury and doesn't consider herself attractive at all. This isn't helped by the way she is treated by the men she encounters. She is also stubborn, kind, smart and curious. Mark is the oldest son of the king of a newly emerging country, who is soon to become the king himself. He was in America looking for a bride when he encountered Jane. He is just as stubborn as she is. And extremely protective of his "angel."
I loved the relationship that developed between Mark and Jane. He was intrigued and captivated by her from the very beginning. She also frustrated the daylights out of him. He is determined to keep her safe and drags her off to Shelkova to do so. He is also determined to make her his queen, but convincing her is an uphill battle. Jane doesn't believe that she is the type of woman a man like Mark would want. She's certainly attracted to him, and believes that he's attracted to her, but that it will end as soon as she gets him to safety. Once she finds out exactly who he is, she is doubly certain that she has no place in his life. She fights against his plans with all her might, feeling completely out of her depth. I loved their interactions, as she stands up against his bossiness, treating him just like any guy who gets on her wrong side. At the same time, Mark really wants to win her over. I loved the way that he slowly begins to understand her and how her mind works. There are some fantastic scenes on the aircraft carrier, with the push and pull of their relationship heating up. I also loved Jane's down-to-earth attitude around all the pomp and circumstance, and the reactions of those around her to her treatment of Mark. She also had incredible compassion and kindness in the midst of adversity that drew Mark to her even more.
Once they arrive in Shelkova, the pressure really heats up. Mark is determined she'll be his wife, and Jane is equally certain that she is not what he needs. His family gets into the act, with his father leading the way. Reynard is just as much a rogue and charmer as his son and is enchanted by Jane. I loved his efforts to show Jane how wonderful she is. Mark's three brothers are great, and I loved them all. Mark's aunt Irina is fantastic, as she becomes a true friend and confidant for Jane. All of them together work hard to show Jane that she's loved, wanted and needed by them and by the country. Jane still has her doubts, and I loved Mark's understanding of those and her actions as she tests those doubts. The story doesn't end with the fairytale wedding, but we also get to see them settle in to married life and Jane into being Queen. There are awesome scenes of Jane as she breaks traditions right and left and helps move the country into the modern age.

But not everything is sunshine and roses, and trouble strikes a few months into the marriage. Jane and Irina are kidnapped, then kidnapped from the kidnappers. The following days are tense, but also have some lighter moments. There's a fun twist to the end, once Mark arrives on the scene. The epilogue is fun, as Jane plans her revenge on one of the second kidnappers. There was one question left hanging (the sex of the expected baby) but I have a feeling I know the answer. I can't wait for the next book.