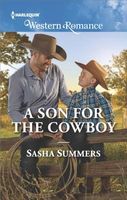 Series:
Boones of Texas
(Book 5)
IT'S TIME TO DADDY UP!
For retired rodeo queen Poppy White, settling down in the picturesque little town of Stonewall Crossing, Texas, had seemed ideal. Until Toben Boone showed up on her doorstep. It had been a lifetime since their explosive one-night encounter in Cheyenne. Her son Rowdy's lifetime. And she hadn't heard a word since.
Toben was still easy on the eyes, still able to set her pulse racing -- and still breaking the hearts of buckle bunnies all over the circuit, she had no doubt. But if he thought his boyish cowboy charm, dangerous dimples and baby blues were going to sweep her off her feet again, he was in for a big surprise. A big six-year-old surprise!
Good book. After years of traveling on the rodeo circuit, Poppy is looking forward to settling down with her son and her new business. She had fallen in love with Stonewall Crossing during one of her rodeo trips and can't wait to settle in. That is, until she recognizes the cowboy peering in her shop window. She hasn't seen Toben Boone in almost seven years - since the night he snuck out of their hotel room, and ignored every attempt she made to contact him.
Toben left the rodeo circuit several years earlier and now works on the family ranch. He's never forgotten Poppy, though he certainly tried. He's surprised to see her in Stonewall Crossing, but stunned at the news that he's a father. At first he's angry that she hadn't told him, until he realizes that it's his own fault that he didn't know. Now he's determined to be a good father to Rowdy.
There is a whole bunch of emotion flying around during this book. Anger, hurt, fear, and ultimately, love. Poppy is justifiably angry at Toben for not being there for her when she discovered she was pregnant. She was also hurt by what she saw as his rejection, causing her to build up walls around her heart so she wouldn't suffer like that again. She is also very protective of Rowdy, and lets Toben know in no uncertain terms that if he can't commit to being the father Rowdy deserves he'd best just stay away. She will not let Toben hurt Rowdy the way he hurt her.
Toben knows he screwed up big time. That night he spent with Poppy had affected him deeply and that scared him to pieces, so he ran. Then he missed her so much, and felt so guilty, that he ignored all her attempts to contact him. He tried to forget her using drink and women, but that didn't work either. So now he works, doesn't allow himself to get close to any woman, and tries to deal with the hole in his heart.
I loved the development of their relationship. Toben is determined to show Poppy that he can be trusted with Rowdy. I loved the immediate bond between father and son. They were so awesome together. There is also no denying that the chemistry between Toben and Poppy is as strong as ever. Poppy is determined that she will not fall for him again, not trusting that he won't leave again. Toben is equally determined to show her that he has changed and that he wants them to be a family. It isn't easy, and he stumbles a couple times, but he's hopeful that love will conquer all.
Toben had some really sweet scenes as he gets to know Rowdy. There are also some pretty steamy ones as his feelings for Poppy keep growing. I was really impressed with everything he did to show Poppy how much he wanted to be with them. I understood Poppy's fear of being hurt again, but there were times that I wanted to shake her and tell her to give the man a chance. I did like seeing her relax around the Boone family and realize that they wanted to be her family too. I was happy to see her finally realize that she loved him and could trust him. The epilogue was really sweet, and I loved how Rowdy was keeping them in line right before the wedding.