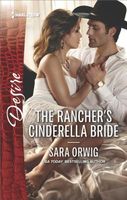 Series:
Callahan's Clan
(Book 3)
Meg Aldridge needs a fiancé. Her family's demands that she marry have become unbearable. But a monthlong pretend engagement to her best friend, Gabe Callahan, should shut them right up. After all, they've been feuding with the Callahans for years.
Gabe's willing to give up the ladies temporarily and focus his attentions on Meg. She's his best friend; there's no danger of complications. But a made-over Meg is wearing sexy clothes and makeup…and stirring up new feelings. Will a month of being lovers for appearance's sake become a lifetime of the real thing?
Good friends to lovers story. Gabe and Meg have been best friends since they were kids. They haven't seen each other often in the past few years, staying in touch mainly through social media. But when Meg needs help, Gabe is the one she turns to. Her family is pressuring her to marry a man she doesn't love, just because they want grandkids and he's the son of good friends. They aren't listening to her, and neither is Justin, whose own family is applying pressure of their own. Meg is certain that if she can produce a fiancé of her own, they'll finally leave her alone.
Gabe is well known as a playboy and for being a bit reckless. He has no plans to marry any time soon, preferring to enjoy his bachelor status. But he can't turn down Meg's plea for help, even though he has a feeling that he may come to regret it.
Something neither counts on is an intense attraction to each other. They can't understand why it is happening; after all they are so very different. Gabe is anti-commitment and all for casual relationships and Meg prefers that her emotions be engaged before indulging in intimacy. Gabe loves his fast cars and motorcycles, airplanes, and bull-riding, and Meg hates anything smacking of reckless behavior after losing her younger brother when he crashed his plane. From the very beginning of their pretend relationship, they have a nearly impossible time keeping their hands off each other.
I really liked Gabe. He's willing to help her out, even though he suspects that it may damage their friendship. He makes no secret of the fact that he wants Meg. He's a bit confused over why he's suddenly attracted to her, but he's willing to go with the feelings. I thought he had an incredible amount of patience with her, when she would really get into kissing him, then suddenly back off. It didn't happen just once or twice, but over and over again. Most guys would get really angry, but he just takes it. It was rather fun to see the way that she got past his "no commitment" defenses and invaded his thoughts night and day.
I had a harder time liking Meg. I felt bad for the way her family and Justin were pressuring her, even though she kept telling them no. Her desperate plea for help was completely understandable. She had a clear picture of the differences between her life and Gabe's and was certain that they could pull off the deception with no trouble. My biggest problem with her was her constant hot and cold treatment of Gabe. She would make the first move, kissing him silly, then pull back when it started to get intense. She knew it was wrong, but she kept doing it. I also understood her fears about Gabe's lifestyle, but I really felt like she was taking it too far. She was afraid of everything he did, never giving him the benefit of thinking that he might be a little wild, but he wasn't stupid.
I enjoyed the development of their relationship. In spite of their differences, they still had a lot in common. Their friendship had survived for so long thanks to the way that they really did understand each other. I did enjoy seeing how Gabe teased her the way he had when they were kids. Then Meg got a little ticked at thinking he still saw her as a child and decided to show him that she was a woman. His reaction was priceless, but it did open up a new level of difficulty for them. When Meg finally stopped pushing him away, she knew she was asking for heartache, but she took the risk anyway. When the end of their fake relationship came, both of them had to look at their lives and decide if they wanted to take a chance on each other. I liked seeing that both were ready to make changes rather than expect the other to do it all. The ending was sweet and romantic.