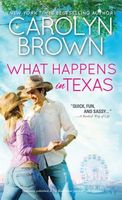 Series:
Cadillac Texas
(Book 1)
You Are Cordially Invited...Come early, eat until your buttons pop, and dance until you drop!
Miss Clawdy's Café has won the Jubilee blue ribbon every year since the dawn of time. This year, town matron Violet Prescott is going after that ribbon with an iron-clad determination only thinly disguised by her perfect coiffure and flawless manners, bless her heart.
It's time for café owners Cathy and Marty and their best friend Trixie to pull out their secret weapon. And this is where a lifetime of friendship, combined with just the right recipe at just the right time, might carry the day -- or blow everything to smithereens.
Welcome to Cadillac, Texas, where the jalapeños are hot, the gossip is hotter, and at the end of the day, it's the priceless friendships that are left standing...
A hilarious offering from Carolyn Brown, showing that men may come and go, but friendship is forever. Cathy, Marty and Trixie have been friends all their lives, and together own and run Miss Clawdy's Café. Darla Jean is a new addition to their circle, a former hooker who has turned preacher. At the beginning of the book, Cathy is engaged to Ethan, an up and coming politician, Marty is enjoying the single life with whatever cowboy catches her eye, Trixie has divorced two-timing Andy but is still sleeping with him and Darla Jean is watching over everyone. All of them are kept on their toes trying to keep Aunt Agnes out of trouble. There is small town drama on top of drama, with hilarious shenanigans throughout.
Cathy is the "good" sister, quiet, never in trouble. She caught the eye of Ethan, who feels she will be the perfect political wife. Cathy is looking forward to the wedding, but dealing with Ethan's overbearing mother, Violet, and his campaign manager is making her miserable. Violet is the self-proclaimed queen of Cadillac and what she says, goes. In the beginning, Cathy seemed like quite a doormat, never standing up to Violet and her demands. The only thing she did for herself was reading the erotic romances that were her escape.
Marty is the "wild" sister. Besides the café, she also works on cars with their friend Jack. She has no interest in settling down, instead she enjoys the company of whoever catches her eye. Once a week she teaches the GED course at the college. She is loyal to family and friends, and once her word is given, she keeps it. She has never forgiven Andy for cheating on Trixie, and makes sure that he knows it. She has a couple of secrets that could create problems if they were to come out. One, is that she writes erotic romances, the same ones that she doesn't know her sister and friend read. Two, she voted against her friend and her aunt joining the Blue Ribbon Jalapeño Society.
Trixie is the third partner in the café. She was married to Andy until she discovered that he had been cheating on her with Anna Ruth. She divorced him, but misses the fun times they had in bed, so she has a weekly booty call with him. She knows her friends would be mad if they found out, so she keeps it a secret. Trixie is also dealing with the slow loss of her mother to Alzheimer's. Her visits to her mom in the nursing home break her heart, as Janie slips further and further away.
Darla Jean retired from her previous life and took up preaching instead. She lives across from the café and keeps an eye on things. She's a down to earth person who knows there's plenty of good and bad in the world. She's developed quite a knack for smoothing over ruffled feathers, which comes in handy when dealing with Aunt Agnes. She also discovers an additional purpose to her life as she assists abused women in escaping their abusers and starting over.
The book starts out with a bang, as the voting for the new member of the Society takes place. Marty isn't happy about the way she has to vote, and feels guilty about it, but a promise is a promise. The excitement continues when Trixie and Andy are about to get busy and Aunt Agnes shows up at the house with her shotgun, claiming she saw Trixie being assaulted through the window. Cops are called, shots are fired, Andy escapes without being seen, while the others try to talk Agnes down.
Meanwhile, as the wedding gets closer, Violet's and Ethan's demands and expectations start to wear on Cathy. The pre-nup that they want her to sign is the last straw, and Cathy finds her backbone in an impressive way. From there, she takes back her life, and finds a bit of her sister's spirit lurking in her own soul. I loved seeing her find her place and her voice. I liked seeing Marty soften her own edges, as she has to balance keeping her secret or hurting her friend. Trixie's eyes are opened regarding her ex when she discovers that he isn't just cheating on the woman he cheated on her with and she realizes that she deserves better.
The long-running feud between Agnes and Violet continues to heat up. Violet continues with her attempts to control everything, especially anything that could have an effect on the upcoming election. Agnes is just as determined to make things as difficult as possible for Violet, and has some truly creative methods. The fudge incident at the festival was especially memorable, as was the fun at the parade. I loved Agnes and her feistiness. She had no problem saying what was on her mind at any time. She also had a huge heart under that crusty façade, as was shown in the way she helped Darla Jean. I also loved how Agnes would fuss at all the girls. She was especially sharp with Trixie, who would give as good as she got. But in the end, they were on the same side.
I loved seeing how all four women supported each other through good and bad. They had their arguments and misunderstandings, but in the end, friendship always came out on top. I also loved their friend Jack, who was like a brother to them all. There were some terrific scenes with him, from car repairs, to trying not to give away secrets that weren't his to share, to them helping him finally move out of his mother's house. I also loved how each one of the girls was paired with him at some point in the town's gossip chain.
Another fun character that was definitely on the "love to hate" side of the ledger was Anna Ruth. Besides being the one that broke up Trixie's marriage, she ends up being the burr under the saddle of the others also. Anna Ruth is just the type of person that Violet would like for Ethan, instead of Cathy. She's very good at kissing up to Violet, especially when it comes to the Society. She also discovers just how she got voted in, making her a pain in Marty's neck, as she thinks that makes them "practically sisters". And since everything is a drama for her, she is constantly crying on Cathy's shoulder about one thing or another. Things get even more interesting when she actually gets Andy to propose to her. Their wedding and everything leading up to it is a case for Murphy's Law, and I loved seeing how it all went.
I'm looking forward to the next book in the series.