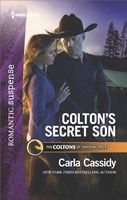 Series:
Coltons of Shadow Creek
(Book 1)
When criminal mastermind Livia Colton escapes from prison, her son, Texas Ranger Knox Colton, is suspended from his job. Embittered, the loner lawman heads home to Shadow Creek, Texas, a town full of unsettling memories for him. But Knox is floored when he discovers that the woman he loved and lost has a son that looks just like him.
Allison Rafferty thought she was doing the right thing by not telling Knox about young Cody all those years ago. Now the man she still loves insists on getting to know his son. And as a threat looms over Shadow Creek, they'll both discover just how far a Colton will go to protect what's theirs.
Gripping start to the new series. Livia Colton is the half-sister to Michael Colton (Coltons of Texas) and turned out to be worse than he was. Now she has escaped from prison and her son Knox, a Texas Ranger, is paying the price. He's on leave until she's recaptured, because the higher-ups consider him a risk. So he has gone home to Shadow Creek to stay with one of his half-brothers. While there, he discovers that the woman he had loved gave birth to a son she never told him about. He's determined to be a part of Cody's life now.
Ten years ago, Allison had believed she was doing the right thing. She was afraid of what Livia would do if she knew Knox had a child. She was also hurt and angry when Knox had walked away from her during that time in his life. Now she has to deal with the consequences.
Knox is understandably angry when he finds out, but he's also thrilled to discover he has a son. The first part of the book deals with him getting to know Cody. I loved seeing the two of them together. Not having had a father in his life, Knox is determined to be everything that his wasn't. I loved seeing those bonding moments, everything from the fun of fishing together to the sweetness of being able to tuck him in.
Knox has a harder time dealing with his feelings for Allison. He's angry about the deception, but the attraction they had all those years ago is still burning strong. He doesn't want to be pulled back into a relationship with her, having been hurt once by her. Allison feels the same attraction, but doesn't want to fall for him again and have her heart broken when he leaves again.
I loved the rekindling of their relationship. Both fight it hard, but being together as Knox gets to know Cody gives them a taste of what could be. Everything is thrown into turmoil when Cody doesn't come home from school one day. He has been kidnapped and Knox and Allison have to learn to lean on each other if they are going to make it through. I really liked seeing the support they provided each other. Knox is especially protective and seems to have a sixth sense about what kind of comfort she needs at any given time. He has some pretty sweet and tender moments as he does so. I also liked how Allison began to see past Knox's tightly controlled emotions to the vulnerable parts of his heart. There was one time when the stress caused some hard words to be spoken, but even those served as eye openers to both Knox and Allison, as they saw their own actions in a different light. I loved seeing them come together in the end, admitting that their love had never died, and ready to see what a future might bring.
The suspense of the story was fantastic. Livia's escape is going to provide the background for the series, as each sibling has to deal with his or her feelings for their mother, and the danger she brings to them all. In this one, she has made a successful escape from prison and is on the run. When Cody is kidnapped, there is some question as to who is behind it. Allison has been dealing with threats from a disgruntled former employee and vandalism from a business rival. She is convinced that one of them is behind Cody's disappearance. Knox isn't too sure about that, and is more inclined to believe that Livia has decided to use Cody as a way to get something she needs. In the meantime, there is precious little real help from the local sheriff, leaving Knox and Allison to investigate on their own. Tension builds as the days go on and their searches lead to dead ends. They get some unexpected help that proves to be useful in narrowing down where Cody has been taken, but time is running out. The conclusion is intense as Cody's life is in danger. Assistance comes from a surprise source, as his rescue is carried out.
One of my favorite characters other than Knox and Allison was young Cody. He's such a terrific kid, full of fun. I loved how he took to Knox right away. I hurt for him while he was in captivity, so scared and yet determined to be brave. I loved his confidence that his mom and Knox would find him. It was also really sweet to see the major case of hero worship he had going on for Knox, and his happiness when he found out Knox was his dad.
I also liked meeting some of Knox's siblings and getting a little bit of their stories. I am really looking forward to getting to know them all better.