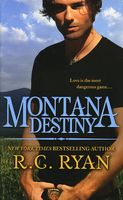 Series:
McCords
(Book 2)
They're the McCords...three rugged, sexy cowboy cousins who'll inherit the family range--if they seek the treasure hidden on it. But even more precious are the women who can tame their wild hearts...
Emergency medic Marilee Trainor likes her freedom and lives for trouble. But when she stumbles upon a clue to the legendary McCord gold, she's suddenly in a mysterious killer's sights--and the arms of irresistible playboy Wyatt McCord. This McCord cousin has been everywhere, yet the ranch is the only place he feels at home. Now Marilee's courage and independence make him want to protect her, win her heart, and finally settle down. But trust is the one thing Wyatt and Marilee can't easily give. And their survival and everything they cherish depends on whether they can surrender to each other--to fight for their...
Good book, second in a series about three cousins who come home to Montana to continue their late grandfather's quest for lost gold. This book is about Wyatt, the middle cousin, who also has quite a reputation as a ladies' man. After years of wandering the world, he's happy to be back on the ranch that feels like home. The only thing that can make it better is spending time with beautiful EMT Marilee. Marilee is fairly new to town, having been hired to run the town's only ambulance. She's worked long and hard against her upbringing to gain her independence and she's not planning to give it up for anyone.
I really enjoyed the way that Wyatt finally got Marilee to talk to him the first time. There aren't too many people who could time a fall off a bucking bull to land right at a woman's feet. Even though she shuts down his advances quickly, he doesn't give up, and by the end of the evening he's managed to talk his way into having dinner with her. And though he's really attracted to her, he plays the gentleman and behaves himself. Marilee ends up having more fun than she expected. And when one of her emergency calls results in finding a clue about his family's lost gold, she takes it right to him. This puts them both in the sights of someone who doesn't want them looking for that gold.
I loved seeing the relationship develop between Marilee and Wyatt. It was sweet to see them getting to know each other. Wyatt has a pretty wicked sense of humor and brings a lot of laughter into her life. There are a lot of things that they have in common. Both of them are stubborn and independent, which has them butting heads more than once. Marilee especially can carry her independence a bit too far at times. She grew up with a controlling father and a mother that was so dependent that she couldn't make a decision without him. Marilee swore that would never happen to her, but she also sometimes forgets about the art of compromise. Wyatt is a true cowboy, raised to respect and protect women. When Marilee is put in danger, his protectiveness goes a bit overboard, causing Marilee to push him away. It takes some hard times and deep soul-searching for both of them to learn to give a little. The ending was especially sweet and romantic.
The suspense of the story was a real roller coaster ride. The discovery of the pages from Coot's diary began a series of twists and turns that kept me turning the pages. Each "accident" became more suspicious as Wyatt and the others wondered who was behind them. The tension continued to build throughout as the clues started to come together. The final confrontation was intense with a somewhat surprising outcome. I'm looking forward to the next book and hopefully a resolution to the search.
As usual with small town stories, there are some unique and quirky characters. First of all, I loved the boys' Aunt Cora and how happy she was to have them all back on the ranch. She is the heart of it and gives them all the mother-type love they could want. I liked that she's just as independent as the rest of them, and stubborn too. I liked Daffy, the waitress at the saloon, with her gruff, gossipy care about everyone. It was always fun to see what she had to say when they were in the saloon. Delia was a character that grew on me. She was so mean at the beginning, but as the book went on, her attitude was explained. I loved seeing the changes she went through, thanks to the understanding of Wyatt and the others.