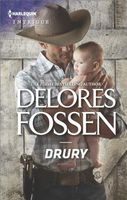 Series:
Lawmen of Silver Creek Ranch
(Book 11)
FBI agent Drury Ryland is no stranger to surprises. But upon returning to his family's cattle ranch in Texas, he's confronted with the ghosts of his past…and a threat to his future. Caitlyn Denson is the beautiful woman who broke his heart and the last person Drury expected to reunite with. But his ex didn't arrive at Silver Creek Ranch alone.
With a killer on her trail and a newborn daughter in her arms, Caitlyn must put aside her tumultuous history with Drury and focus on survival. Drury feels obligated to protect the family he never had, but professional boundaries begin to blur as their enemy shifts into stark focus.
Good suspense and second chance story. Drury and Caitlyn had known each other briefly several years earlier, but their relationship ended abruptly and she married someone else. He hadn't seen her since then, until she suddenly appeared at his home, with trouble close behind.
The book starts with a bang, as Drury is shot at when he arrives home from work one day. The gunman gets away, leaving Drury wondering who is behind the attack and why. That is, until he gets inside his house and finds Caitlyn and a newborn baby hiding there. Caitlyn claims that someone is trying to kill her and take the baby. Hearing her story, Drury realizes that there is a link to the same fertility clinic that had caused problems for them the month before (see
Holden
). He's not happy about dealing with Caitlyn, but he'll protect them both.
I liked the development of their relationship. Though wary of each other at the beginning, there's no denying that the attraction between them is still strong. Drury still feels the hurt of what he saw as her betrayal and is reluctant to trust her now. Caitlyn is full of guilt over the way she handled things. But as they are forced together, the negative feelings are overcome by a renewal of the passion between them. I liked the way that Caitlyn owned up to the mistakes of the past. Though they don't spend any time rehashing the past, it still has an effect on their current feelings, making them believe that a future isn't possible. It takes the threat to their lives to make them realize their feelings for each other, and some awkward and amusing attempts at matchmaking by his brothers and cousins to finally get them together.
The suspense of the story is good, with nearly nonstop action. Who was behind the attacks? And who stole the embryo that eventually became baby Caroline and why? There are several suspects and twists and turns involving each of them. The tension built with each attack on Drury and Caitlyn. Their frustration was obvious as the suspect list grew. The final confrontation was intense and I wasn't sure how they would get out of it. I loved Caitlyn's big moment as her protective mommy instincts won the day.
As always, the Ryland family is there for support, both professional and personal. Even in the midst of all the chaos, it was fun to see their reactions to Caitlyn's presence. I also liked seeing how opinions changed and acceptance grew. I enjoyed glimpses into the lives of the other Rylands and how their lives are now.