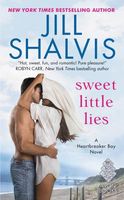 Series:
Heartbreaker Bay
(Book 1)
Choose the one guy you can't have . . .
As captain of a San Francisco Bay tour boat, Pru can handle rough seas -- the hard part is life on dry land. Pru loves her new apartment and her neighbors; problem is, she's in danger of stumbling into love with Mr. Right for Anybody But Her.
Fall for him -- hard . . .
Pub owner Finn O'Riley is six-foot-plus of hard-working hottie who always makes time for his friends. When Pru becomes one of them, she discovers how amazing it feels to be on the receiving end of that deep green gaze. But when a freak accident involving darts (don't ask) leads to shirtless first aid, things rush way past the friend zone. Fast.
And then tell him the truth.
Pru only wants Finn to be happy; it's what she wishes for at the historic fountain that's supposed to grant her heart's desire. But wanting him for herself is a different story -- because Pru's been keeping a secret that could change everything. . . .
Fantastic start to the new series, full of the author's trademark humor, deep emotions that had me in tears at the end, and small town feel, even though the book is set in the city of San Francisco. This one is the story of Pru and Finn. Pru is the captain of a harbor tourist boat and loves what she does. She has recently moved into a new apartment in a building that also has an Irish pub. The pub is owned by Finn and his brother Sean and is the gathering place for their group of friends. Finn and Pru noticed each other right away, but issues from their pasts have them trying to ignore the sparks. That all ends when a dart game goes hilariously wrong.
I loved Pru. She is a woman with a huge heart and an even bigger guilt complex. Years earlier her parents had been killed in a drunk driving accident that they caused. Unfortunately, they were not the only casualties. Since then, Pru has made it her mission to help those who were affected by what her parents did. She is sweet, stubborn, and more than a bit lonely, but doesn't exactly feel deserving of happiness. I loved seeing her become part of the group at O'Riley's.
Finn was great. When he was twenty-one his father was killed by a drunk driver, leaving just him and his fourteen year old brother Sean. Rather than let Sean go into the foster system, Finn left college, his promising baseball future, and his fun-loving life to raise his brother. Later, they opened their pub, Finn's plan for giving himself and Sean a steady life and income. Finn has spent all his time working, finishing school and looking out for Sean, leaving himself no time for fun. He gets quite a hard time from Sean, who is just the opposite, preferring fun to serious whenever possible.
I loved the relationship that developed between Finn and Pru. She never meant for anything to happen between them. Instead, she had made a wish on the local fountain that he find love and happiness, because she could see that he was all work and no play. I liked how she called herself the "fun whisperer" and told him that she was going to help him have that fun. The connection between them is immediate and hot, but both are holding back. Finn has been burned once before and is trying to protect his heart. Pru hasn't told Finn that they have a connection he's completely unaware of. In spite of those things, Pru and Finn get more involved in each other's lives. Finn is a protector and there is something about Pru that calls to that part of him. I loved seeing him take care of her when she was sick, even though she tried to push him away. Pru is a nurturer, as shown in the way she tries to take care of everyone. I loved watching her draw Finn out of his workaholic ways and get him back to living life. There were so many sweet and funny moments between them, but with that secret hanging over Pru's head, you know that it's eventually going to come out. When it did, Finn reacted just as Pru feared he would. I ached so badly for both of them, but especially for Pru. She had fallen so hard for him and the things that Finn said hurt so badly. I loved seeing Pru get unexpected support from her new friends. Finn was hurting just as badly, but his pride had taken a hit also. I loved seeing his friends point out his idiocy, with Archer's part having the biggest impact. I really enjoyed seeing Finn do his bit of groveling, especially doing it in front of all their friends.
I loved meeting all their friends also. Each one has a unique personality and quirks of their own. From Eddie the homeless guy, who I suspect has more to his story, to Elle, who is a little bit scary with some of her insights and ability to get people to do what she wants, I am really looking forward to seeing what happens with them all.