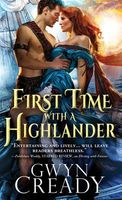 Series:
Sirens of the Scottish Borderlands
(Book 2)
She needs a man-but only for a night
What do you get when you imbibe centuries-old whiskey-besides a hangover the size of the Highlands? If you're twenty-first century ad exec Gerard Innes, you get swept back to 18th-century Edinburgh and into the bed of a gorgeous, fiery redhead. Gerard has only a foggy idea what he and the lady have been up to...but what he does remember draws him into the most dangerous and exhilarating campaign of his life.
Be careful what you wish for...
Serafina Seonag Fallon's scoundrel of a fiancé has left her with nothing, and she's determined to turn the tables. If she can come up with a ringer, she can claim the cargo he stole from her. But the dashing man she summons from the future demands more than a night, and Serafina finds it easier to command the seas under her feet than the crashing waves he unleashes in her heart.
This was a really fun time travel romance. It begins with Serafina complaining about her dastardly ex-fiancé, who seduced her, dumped her, and used her money to purchase a ship's cargo, leaving her broke and with a ruined reputation. If she has any hope of retrieving that cargo she needs a look-alike man to impersonate Edward and sign the cargo over to her. Enter Abby and Undine. Undine is something like a witch, whose potions have been known to bring just what is needed. She creates the potion but warns Serafina to be careful what she wishes for.
Gerard is a twenty-first century ad exec in Manhattan who has just landed a big account and is celebrating. He has quite the reputation as a ladies' man, and has invited a young lady to his room to continue the celebrating. She's a bit worse for drink, and he's actually a gentleman and puts her to bed to sleep it off. In the meantime, he samples some three hundred year old Scotch, then passes out himself. He wakes up the next morning not only in bed with a different woman, but also in a different city and a different century!
That first scene is hilarious, with Gerard completely confused about what happened, with some hazy memories that don't really make sense to him. Serafina is also confused and experiencing some of the same memories. Gerard is fortunate in that the first person he encounters turns out to be a fellow time traveler who can fill him in a little bit. Explantations are cut short when their activities of the previous night bring unwelcome visitors and he and Serafina have to make a run for it. This begins a highly amusing tale as Serafina and Gerard try to track down her cargo. There's more to the story than just the cargo, including some piracy, threats to Scotland's independence, spying and romancing.
I loved Serafina. She is feisty, independent and stubborn. She has made mistakes (letting Edward sweet talk her into sleeping with him before marriage, giving him access to her money) but she is doing her best to rise above it. Her reputation may be in tatters, but that isn't going to stop her. She has her plan and nothing is going to stop her from carrying it out, even a highly distracting man of the future.
Gerard was great. I thought he took to the eighteenth century pretty easily once he accepted that it had happened. He's quite a charming flirt, and it is fun to see him try to work that charm on Serafina. He also quickly becomes very protective of her, and finds himself in interesting situations because of it. At first he's determined to do what has to be done, so that Undine can send him home, but it doesn't take long for him to start thinking about staying longer.
Though neither wanted a relationship in the beginning, their connection is fast and deep. It was fun to see them bicker their way around Edinburgh as they tried to track down her cargo. They were also desperate to reconstruct their memories of the night before, especially to find out if they had truly married or simply faked it. They get themselves into and out of quite a few scrapes, frequently with the help of Gerard's fast thinking and creative mind. It was especially fun to see him put his twenty-first century marketing skills to work in 1706 Scotland. I really enjoyed the scenes with the baker and tavern owner, and the part with Gerard and the fancy chemises was a riot.
As his time in Scotland draws closer to its conclusion, Gerard realizes that he doesn't want to lose Serafina. He makes a few missteps in his ideas for their future, but eventually comes to the conclusion that he will do whatever he must to make her happy. Whether that means stepping aside for someone else, or changing his entire life is a decision that isn't easy to make. Serafina, too, doesn't want to lose Gerard, but she doesn't want to make him give up his family, fortune and friends. She also has to let go of her pride a little bit, and learn that it's okay to lean on someone for a little help now and then.
There were also a few interesting twists that came out in the final chapter. One involving a bottle of whisky and one involving a dress that turns out to be more than a dress. And finally one that will require a lesson in genetics and the weirdness that is time travel.
I'm looking forward to reading more in this series, including going back and reading the first one.