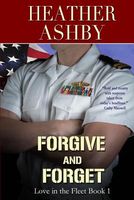 Series:
Love in the Fleet
(Book 1)
Who can resist a man in uniform? There's something about a man in uniform...but there's something about a woman in one, too. When Petty Officer Hallie McCabe meets Philip Johnston at a picnic, she is drawn to his integrity. He's a gentleman. But he's also an officer. From her ship. Knowing that officers and enlisted aren't allowed to fraternize, Hallie conceals her Navy status, hoping she and her secret can stay hidden on their aircraft carrier until she can figure out a way for them to sail off into the sunset together.
Caught in an emotional firestorm, Hallie faces a future without the man she loves, a career-shattering secret from the past, and the burden of being the one person who can prevent a terrorist attack on the ship she has sworn to protect with her life. Prepare to set sail for the Persian Gulf with a crew of 4,999 sailors and officers-and one terrorist in search of his own kind of Paradise.
Very good book. I wasn't too sure at the beginning as I didn't like the secret Hallie was keeping, but I quickly got engrossed. Hallie and Phillip met at a picnic and were immediately drawn to each other. Hallie is an enlisted sailor on the same ship where Phillip is an officer. She knows the rules against fraternization, but she keeps quiet.
I loved the development of their relationship. Phillip is an engineer, a bit geeky, but sweet and honest and a gentleman. Hallie is smart, independent, and works in the public affairs office of the ship. She is studying journalism at the university. The connection between them is strong. I loved how they were able to talk about real things, not just the usual small talk. Phillip is convinced right away that she is The One for him. Hallie is equally hooked on him, but her secret is haunting her. She knows that if she tells him that she's enlisted he'll break things off right away. I loved seeing them get to know each other.
Hallie has some issues that also affect her relationship. She does everything she can to avoid meeting any of Phillip's friends. Besides not wanting to see anyone that could give away her secret, she also has a thing about pilots, some of whom are his friends. I loved seeing her share her reasons for her dislike with Phillip, and his understanding and support of her. There's an interesting twist involving those reasons later in the book, and Phillip's protective nature really comes out.
When it's time for the ship to leave, Hallie knows she has to come clean. I really started to feel for her because she was so in love with him. I ached for Phillip too, when he found out, as it made him feel betrayed by her. I loved seeing Hallie give him the time he needed to deal with the news. One thing I loved about this book was that they were realistic about what the rules meant, and they worked hard to follow them. I loved the scenes with Trixie being the unwitting go between, who keeps Phillip and Hallie informed on each other's lives. I liked the solution they came up with to be able to continue their relationship within the spirit of the rules.
Throughout the book there is also an underlying sense of danger. There is a disgruntled sailor who has turned terrorist and has plans that will endanger the entire ship. His thoughts and feelings are well documented and the intensity increases as the book progresses. The final confrontation with him is scary in how easily it could really happen. I loved Hallie's ability to think in a crisis and the way she held it together to save the day.
But the excitement isn't over, as Hallie has a personal crisis to deal with. She gets major help from a surprising source. There's also a fun scene on a helicopter dealing with a hot mic and Phillip's best friend, Sky. I also loved the meeting between Hallie and Phillip's parents.
I enjoyed the look at life on an aircraft carrier, from the point of view of ordinary military members. I love special forces heroes, but now and then it's great to see other things. It was fun hearing about Phillip's issues with the ship's plumbing. There was also a realistic look at what female sailors have to deal with.