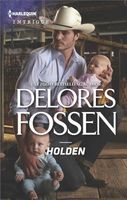 Series:
Lawmen of Silver Creek Ranch
(Book 10)
When a baby goes missing, a Texas marshal and a woman from his past discover there's a whole lot more behind this kidnapping…
Holden Ryland certainly didn't become a marshal just to end up busting his ex, Nicky Hart, for taking files from Conceptions Fertility Clinic. But only Nicky knows just what was really stolen: a newborn being held for ransom. A newborn who is kin to both her and Holden. The missing boy is only the start of a mystery that snakes through Texas, winding its way through their families. Bad blood may linger between them, but Holden can protect his nephew back at the Silver Creek Ranch. If they can lay their past to rest to rescue this child, is it possible for them to have a future together?
Good addition to the ongoing saga of the Lawmen of Silver Ranch. The action is non-stop from the beginning as Holden and Nicky try to find out who is behind a fertility clinic scam and blackmail scheme. Holden is a US Marshal who has gone to see an ex-girlfriend about her role in an FBI investigation, only to discover that she is in trouble. She is being held by gunmen who want the information she has found. Nicky is an investigative reporter who stumbled across the information while investigating the disappearance of a senator.
Holden and Nicky have a past together. They had just begun a relationship when she made the mistake of holding on to information a little too long during one of her stories. This information nearly got his brother Drury killed. Added to the events surrounding the death of his brother Emmett and her sister Annie (see the previous book
Landon
) and the relationship ended before it really got started. Now Nicky has information showing that someone used Emmett and Annie's embryos in that scheme and that she and Holden have a nephew that needs to be rescued.
Nicky and Holden try to put the past behind them as they work together to protect their nephew and stop those behind the scheme. The attraction and chemistry between them is just as strong as it was before and they have a hard time resisting it. I liked that Nicky has learned her lesson, and is fully forthcoming with what she has learned. She doesn't know if the Rylands can ever forgive her for her previous actions, but her feelings for Holden are still there. Though Holden is still dealing with the pain of his brother's loss, he can't deny that he still has feelings for Nicky. I loved his protectiveness toward her, with Nicky having the same concerns about his safety. In the end, they realized that their love for each other can overcome the problems that came before.
The suspense of the story was fantastic. Each new clue brought forth another person of interest. Each one had the means and motive, though always proclaiming their innocence. There is Nicky's father Oscar, who is desperate for a grandchild to be his heir. Is he a victim or perpetrator? Beatrice, trophy wife of the missing senator, also claims to be a victim of the blackmailer. Is there another baby out there that is hers? And did she have a part in her husband's disappearance, or is she innocent of it all? And they can't forget about Amanda, the clinic's former office manager, and surrogate mother to one of the embryos. The final confrontation brings everyone together in an intense face-off. The multiple twists and turns leading to this point are finally resolved, though there are still a couple questions left hanging for the next book.

I also enjoyed seeing more of the Ryland men from the previous books. Their teamwork is always terrific as they provide backup and protection. Since they are all family, there is also the personal touch in some of their interactions. Gage especially gets his chance to give Holden a bit of a hard time about his relationship with Nicky. There's a brief scene with Drury, who was the victim of Nicky's mistake, but doesn't seem to hold too much of a grudge. I'm looking forward to his book.