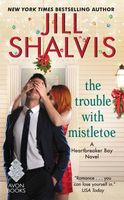 Series:
Heartbreaker Bay
(Book 2)
If she has her way . . .
Willa Davis is wrangling puppies when Keane Winters stalks into her pet shop with frustration in his chocolate-brown eyes and a pink bedazzled cat carrier in his hand. He needs a kitty sitter, stat. But the last thing Willa needs is to rescue a guy who doesn't even remember her . . .
He'll get nothing but coal in his stocking.
Saddled with his great-aunt's Feline from Hell, Keane is desperate to leave her in someone else's capable hands. But in spite of the fact that he's sure he's never seen the drop-dead-gorgeous pet shop owner before, she seems to be mad at him . . .
Unless he tempers "naughty" with a special kind of nice . . .
Willa can't deny that Keane's changed since high school: he's less arrogant, for one thing -- but can she trust him not to break her heart again? It's time to throw a coin in the fountain, make a Christmas wish -- and let the mistletoe do its work . . .
Terrific second book in the Heartbreaker Bay series. This one is about Willa, the pet shop owner and animal wrangler and Keane, flipper of houses and desperate cat sitter. Willa isn't too thrilled when Keane shows up at her shop, looking for some kitty daycare. She remembers Keane from high school, when he stood her up for a school dance, and still holds something of a grudge. But she can't refuse to help the cat, and the man is part of the package. Keane has been stuck with taking care of his great-aunt's cat, Petunia, and it isn't going well. Leaving her with Willa seems the best way to keep from having his house destroyed. If only he could figure out why she doesn't like him...
Willa is a sometimes sweet, sometimes sassy woman with a huge heart. Willa was in and out of foster homes for most of her childhood, leaving her craving love and family, but also cautious about committing her whole heart. She wants a love of her own, and the historic fountain in the building's courtyard gets a lot of her change as she makes her wishes. She's also on a man diet right now, as her past relationships seem to have all been losers. Instead, she lavishes her attention on her animal customers, her friends, and the young women who work for her.
Keane is a good looking man with a busy life. He's a self-made man, making his living by flipping houses. A late-in-life arrival to his parents, he feels that he never really fit in with his family. His childhood attempts to gain attention have led him to believe that he doesn't have the ability to love or be loved.
I loved the relationship that grew between Willa and Keane. His arrival at the shop, with bejeweled cat carrier in hand and desperation in his eyes, was pretty amusing. Their conversation was fun, with some definite sparks present. Keane is attracted and intrigued, and can't get her out of his mind over the next few days. Willa is just as attracted, but determined to resist. Over the next few days they slowly became friends. I loved the scene where Keane helped with the dog wedding setup and encountered Archer and Spencer, and held his own with them. Willa fills Keane in on what her problem with him is, and he is suitably apologetic. He has matured into a much better man than his teenaged self, which puts Willa at even more risk.
I loved seeing them grow closer. They have more in common than they realize, with their rocky childhoods. This gives them insight into what makes the other tick even though they can't see the truth about themselves. I especially enjoyed seeing Keane, who really believes that he can't care about anyone, show just how much he does. His care for his aunt, who he barely knows, and her cat, who gives him fits, is one of the sweetest things about him. The friendship between Keane and Willa is quickly enhanced by the attraction that continues to grow between them. The realization that what they want is more than the casual relationship that they started out with freaks both of them out, and each reacts in a different way. I ached for Willa as she discovered just what Keane had done, the hurt that she felt believing that love would be enough to overcome their issues. Keane's stunned realization of just how much he cares comes just a little too late, and he is left trying to figure out how to fix it. Meanwhile, in a conversation with Rory, Willa realizes that she has made her own mistakes. I loved seeing the help and support she got from her friends as she raced back to Keane. The ending was so sweet and romantic as both finally open their hearts all the way. The epilogue was great, and I adored the gifts that they had for each other.
I loved seeing more of the group of friends. The love, friendship and support they all share is something that makes these books such incredible reads. I really loved seeing Archer, Spence and Keane all come together to deal with Willa's ex. The young women who work for Willa were also wonderful characters and showed another facet of Willa's big heart, as she helped them through the same issues she had had to deal with.
My favorite secondary character of the book was the cat, Petunia, aka PITA. It was so much fun to see her go from devil's spawn to beloved pet. I really had to laugh at her ways of getting Keane's attention, from cat yak by the bed for him to step in to using his running shoes as a litter box. I loved seeing Keane's various reactions to Willa's abilities as a cat whisperer. Petunia made a grand matchmaker as her antics frequently brought the two of them together.