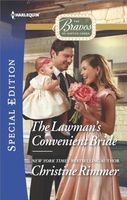 Series:
Bravos of Justice Creek
(Book 7)
FIRST COMES MARRIAGE
Feisty, fearless Jody Bravo's set to do everything for her baby. She doesn't need anything from anyone -- especially the stepbrother of her baby's late father. But lawman Seth Yancy won't leave her to face parenthood alone, no matter how prepared she is. And even though Jody resists, soon she's taken in completely by his charms -- and agrees to be his wife…
THEN COMES LOVE?
Hunky Sheriff Yancy's not without his fair share of admirers in Justice Creek. After a terrible tragedy years before, though, he's faced life alone. Now the real-life woman of his dreams just happens to be his bride -- and pregnant with the child of his heart, if not his reality. So "father" is a role that will come naturally to Seth. And will "husband" really be that far behind?
Very good story. Jody is pregnant and ready to handle everything on her own. She has everything planned out and is ready for anything. That is, except for the step-brother of her baby's father to get involved. Seth had had no idea that his late brother had fathered a child. At first furious at not being told, he quickly resolves to give Jody all the help she needs - whether she wants it or not.
I liked Jody. She's feisty and independent, determined to be the best mom she can. However, she can be a little too independent at times, pushing away the people that care for her. She has decided that marriage isn't for her, as that would mean risking her heart. She's been hurt twice before and isn't up for a doing it again. She's also got a secret she's been carrying for thirteen years, one that deeply affects her actions as a mother now. I loved how, in spite of being sure she's ready for anything, she still experiences the same doubts as any new mother once the baby arrives.
I liked Seth too. At the beginning he's pretty stiff and judgmental over not knowing about the baby. He had thought he was very close to his brother and couldn't understand why he hadn't been told. Seth is also one of those men who is very conscious of his duty. He has devoted all his time to his job as sheriff, avoiding getting involved with any of the women in town. He was in love once before, which ended tragically, and believes that loving again would be disloyal to his late fiancée.
I loved the development of their relationship. Because Seth won't take no for an answer, he is constantly underfoot, doing anything he can to make Jody's life easier. When she goes into labor early, and none of her coaches are around, Seth is the one who comes to the rescue. The labor and delivery scene is awesome, with the experience creating a big change in Seth. It's pretty sweet how he moves right in with Jody as a mother's helper. Jody knows she should send him home, but the longer he stays, the more she appreciates everything he does. It doesn't take long before they've developed an excellent friendship, one deep enough that they are able to share their worst hurts of the past.
It's pretty obvious that they are falling for each other, but neither wants to admit it. Jody has a pretty good idea of what is happening to her when she realizes that she doesn't want some other woman to win him at the bachelor auction. I loved Seth's insistence on following through with the date, and he really goes all out. By the end of it, he has realized that he wants Jody and the baby in his life permanently, though he still refuses to think of the L word. His proposal is sweet, but a little lacking. Jody, still avoiding her own feelings, agrees that they would suit each other well, and accepts his proposal. But once they are married, she realizes that she wants more than he appears to be willing to give. I liked that she didn't just give up, but was determined to fight for their marriage. She just had to get past Seth's stubborn refusal to believe that he can love again. I ached for Seth as he faced the thought of losing them both. I really liked how he finally admitted he should talk to someone, and that it was his father he opened up to. Seth's big moment at the end was awesome - romantic, sweet and pretty funny. I especially loved the epilogue and how it covered more than just a couple months.
I loved the always present support of the other Bravos and their families, as each one plays a role in Jody's life. It was pretty funny that they all could see the truth of Jody and Seth's feelings, even as they refused to believe. Jody's mom Willow was especially fun at the bachelor auction, as she prodded Jody along the bidding war.
There was one part early in the book that made me laugh out loud and really relate to Jody. When she was settling in for a night at home, her idea of relaxing was binge watching the second season of Outlander. As a huge Outlander fan myself, that made her all the more real to me.
*copy received in exchange for an honest review.